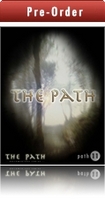 We have had so much interest from people going to our site and asking when the movie was going to be released so we decided to give people a 2:22 minute glimpse of the documentary to hold them over until the film is completed
Coxsackie, NY (PRWEB) December 30, 2008
No matter how you look at, no one is getting out of this world alive. The death of a loved one is an experience that many if not all people can relate to in one way or another. Path11 Productions LLC announced today that the trailer for the upcoming documentary The Path-Afterlife is now available to be viewed online at ThePathSeries.com.
Filmmakers Michael Habernig and April Hannah of Coxsackie, NY are currently planning for the documentary release of The Path-Afterlife in January 2009. "We have had so much interest from people going to our site and asking when the movie was going to be released so we decided to give people a 2:22 minute glimpse of the documentary to hold them over until the film is completed," says director Michael Habernig.
The Path-Afterlife documentary has interviewed 12 experts in the field of metaphysics such as staff at The Monroe Institute in Virginia, out of body expert William Buhlman and physicist and researcher of consciousness Thomas Campbell. The people interviewed were chosen given their years of study and practice in healing and paranormal encounters in the attempt to gather more information about the afterlife and to begin to try and find answers to some of the big picture questions that no one really has an answer to like "What happens when we die? Does the soul live on? Is there an afterlife?"
Michael Habernig and April Hannah have a personal vision to impact the world with a documentary on the soul's purpose and healing. After the sudden deaths of many people in the director's life, he had no choice but to begin to question why we are here on this earth. What is our purpose? He began to feel a strong gut instinct that he needed to make a documentary about death and the afterlife and bring his audience along his path of healing. The Path-Afterlife will tell the director's story through the film about show how it was that he came to learn more about the paranormal, afterlife and different healing modalities.
It is the filmmaker's goal to inspire others who have lost someone dear so they can begin to heal, to release their fear of death and to learn that there is more to life than just living in this body. "It is our hope that this documentary will eliminate some of the fear associated with death and answer more questions about these realms and allow people the freedom to make their own informed decision about life after death after watching The Path-Afterlife documentary," says producer April Hannah. It is the filmmakers hope that this documentary will begin to empower people to become their own scientists and explore the idea that we might be more than our physical body.
About-Path11 Productions LLC, is an independent production company located in Greene County, NY. Path11 will be filming a series of documentaries and dedicating all projects to consciousness and healing. Path11 Productions LLC was formed in 2008 and will be releasing their first documentary called "The Path-Afterlife" which is scheduled to be released in January of 2009.
###