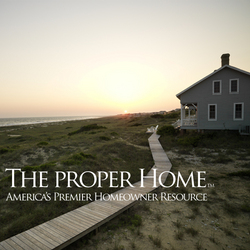 The greatest frustration among homeowners today is the feeling of helplessness when it comes to managing their homes
Indianapolis, IN (PRWEB) July 15, 2008
River Bend Research announces the release of The Proper Home - the innovative next-generation home management solution. The Proper Home eases and automates home management, provides access to expertise and other tools to members. It also includes engaging stories and insight from leading manufacturers free to all readers.
"The greatest frustration among homeowners today is the feeling of helplessness when it comes to managing their homes," notes Kevin Williams, President of The Proper Home. "When you consider all of the details, complexity, technical requirements, knowledge and access to new ideas, maintaining a home properly is a full time job in itself. The Proper Home extends the homeowner's capabilities and empowers them to manage their home properly and focus on living well."
As lives become more complex and free time decreases, fewer homeowners have the time, knowledge, expertise or insight to manage their home effectively. The result is that billions are spent on avoidable repairs or advantage is taken by unscrupulous resources because of little or no expert guidance for homeowners. The Proper Home can eliminate many of these concerns for a new generation of homeowners.
The Proper Home simplifies and automates home management using intelligent features including integrated inventory, improvements, maintenance resources and financial analysis tools. Homeowners create custom alerts and store images securely for insurance, recording and law enforcement purposes. Despite its comprehensive power, The Proper Home is remarkably easy to use and affordable.
Among The Proper Home's more innovative features is The Proper Home History(TM) that automatically documents a home's history as that home is managed. Histories can be exported to new owners, or imported from existing owners when a property is purchased with a few clicks. Home histories can add property value and reduce transition hassles. Thanks to multi-property management abilities, homeowners, contractors and property managers can benefit from the power and flexibility of The Proper Home.
"Knowledge is a limiting factor of many homeowners," remarked Steven Driscoll, Chief of Operations for The Proper Home. "The Proper Home experts guide members in many areas ranging from finance to construction practices. Members ask questions, receive direction, interact with others and gain insight from the world's leading manufacturers. This synthesis is what makes The Proper Home truly exceptional."
The uniqueness of The Proper Home has leading manufacturers jumping on board. Companies including Bosch, Ingersoll-Rand Security, Jacuzzi, Peachtree, Owens Corning, Westinghouse, Weyerhaeuser represent only a few of the many major companies coming to The Proper Home to interact with consumers in new ways. Because The Proper Home does not permit advertising, manufacturers offer rare insights and develop consumer relationships unavailable through traditional advertising.
"The strength of The Proper Home is that it is designed for homeowners by homeowners," commented Jonathan Mutter, R&D Engineer for The Proper Home. "This fall, we are introducing new ways of discovering and selecting the best companies to work with. We are continually innovating in ways that are improving the homeowner experience."
Pricing and Availability:
The Proper Home is available for a limited time to homeowners for $69.95 annually / $149 for three years. After the introductory period, memberships will cost $99.95 annually.
For Further Information, please visit http://TheProperHome.com.
About The Proper Home:
The Proper Home is a division of River Bend Research LLC Consumer Research, Applied Systems, Analytics and Broadcast Media. River Bend Research maintains offices in Indiana, Ohio, Maryland and Texas.
Press Contacts:
Kevin Williams
The Proper Home - River Bend Research
317.823.5270 extension 3201
###