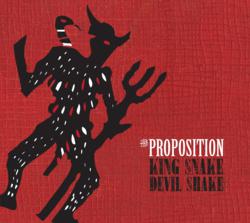 A unique sound, cinematic in scope with an almost Dickensian sensibility... fiery ardour and energetic drive. It's impossible to pigeonhole The Proposition.
Norwich, Norfolk, UK (PRWEB UK) 17 April 2012
Unsigned Norfolk-based band The Proposition have met with unanimous critical praise for their debut album "King Snake, Devil Shake" released on their own Cowboy Town label. Now the band is seeking professional management and agency representation for their high-energy lyrical acoustic roots music which has been compared to artists as diverse as Mumford and Sons and Bob Dylan.
Critics and audiences looking for new acoustic music have responded enthusiastically to The Proposition's combination of instantly memorable songs and passionate performance, with a lyrical sensibility that bears repeated listening.
Self-financed and recorded part-time over a 12 month period both in Norfolk and at the legendary Welsh studio Rockfield, The Proposition's album "King Snake, Devil Shake" has been catching the attention of reviewers on the lookout for fresh and engaging "music for grown-ups".
"We've been described by some audience members as a 'mature' Mumford and Sons," said singer Simon Middleton.
"It's certainly true that we're gown-ups: we've lived a life. But it's the adult perspective that makes our songs appealing to our fans. We've been likened to Bob Dylan and The Band too, so that can't be bad."
Folk, country and roots reviewers seem to agree.
American Roots UK said of the band's album: "A pretty much unique sound, cinematic in scope, somewhere between The Pogues and The Band. An almost Dickensian sensibility. If you like incredibly well played, at times thought provoking songs that stylistically can be categorized as either 'English folk rock with Americana leanings' or 'English Americana' you will be fortunate indeed to find a better example this year!"
Northern Sky magazine praised the album's "fiery ardour and energetic drive" and went on to comment: "The Proposition create a distinct skiffle take on British Americana, with the simple to understand ethos of performing highly energetic acoustic folk music from a mature standpoint incorporating a wry sense of humour."
Enthusiast website Folking.com said of the album: "Some of the most exciting discoveries in 'pop' of recent years have come from the rootsier end of the spectrum. Acts like Seasick Steve and Fisherman's Friends proved that authentic content and unfussy presentation can have broad appeal. And both acts proved that grizzled features are no barrier to success. The Proposition's debut is another reminder that no amount of processed pop can beat stirringly memorable songs and charismatic performance, by artists who have 'lived a life'."
Country Routes reviewed the album enthusiastically too, saying: "Their music has current stamped right through it. Jam packed with energy, plus a definite feel-good factor. It's nigh on impossible to pigeon-hole The Proposition's music. It's so unique."
Blues Matters magazine commented: "An energetic rootsy set that blends Pogues style folk-punk with blues, hillbilly and bluegrass, reminiscent of Bob Dylan, Hank Williams, Neil Young, Carl Perkins and several 60s beat groups. In the finest traditions of Americana. Dark songs set to incredibly catchy melodies."
The enthusiastic reviews have been matched by widespread airplay on regional and internet radio.
In the wake of the release of the album, which was produced by former Seasick Steve and Teenage Fanclub producer Nick Brine at the legendary Rockfield studios, The Proposition have been expanding their range of gigs across festivals and the UK roots-folk circuit.
The band have already been offered a Europe-wide distribution deal by an independent German record label, but are exploring all possibilities before deciding how to take their music further.
"We have had such a great response to the album, as we always do to our songs played live, that we know we have a 'product' that really engages people," said the band's frontman Simon Middleton, who is also founder and proprietor of banjo shop Banjos Direct.
"There's a greater interest in acoustic based roots music now than there has been for many years. It's a fantastic moment, and people are really responding to our songs. We're really hoping that an agent or a UK management company, or an appropriate label, will see the potential of what we do."
Song samples from "King Snake, Devil Shake" can be found on The Proposition's website, and a full length version of the track Summer Lightning from the album can be found on YouTube.
Further information:
The Proposition website: http://www.thepropositionband.com
Phone: Simon Middleton on 01603 305800
Email: info(at)thepropositionband(dot)com