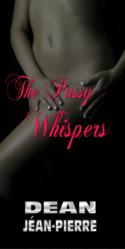 I love how Dean Jean-Pierre understands a woman's wants and desires
Washington, DC (PRWEB) May 12, 2011
CalmWaters Entertainment Group, Inc. is delighted to introduce an exciting new writer, Dean Jéan-Pierre in the world of literature. His first book, the sensual, erotic and mind stimulating work of short stories, "The Pussy Whispers" reminds readers that sensuality is not only derived from the physical but also the mental.
The Pussy Whispers is that rare book that starts you off with a soft kiss and makes love to you throughout your entire reading journey. It will leave you drenched in the intensity of your own erotic thoughts. Jason Frost of Russo Books says, "The 'Pussy Whispers' is like sexual cocaine - too much at one time will completely mess you up." Another reader compared "The Pussy Whispers" to a skillful lover making love to every part of her body.
Readers from all passions of life have been raving about Mr. Jéan-Pierre's ability to master the art of making love to their minds; and in the same breath, hold them captive with inventive and thought-provoking stories.
The Pussy Whispers consists of 18 erotica short stories and several pieces of poetry that weave together sensual tales of passion, love, desire caressing the gentle touch of love and sensuality. From stories like "Floor 6…9" to "You Own Me," Mr. Jéan-Pierre takes his readers by the hand and leads them into the passion trapped in their minds and bodies. With each story, he probes into his reader's imagination and personal intimate desires to find the passion waiting to be stroked deliciously into the light.
About the author: Born in St. Croix, U.S. Virgin Islands, Dean Jéan-Pierre has been writing short stories and poetry since he was a young boy. For more information please contact (888) 693-5551. http://www.deanjeanpierre.com
###