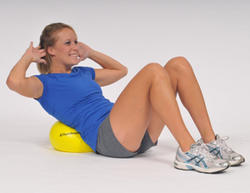 TheraBand does it again with these new products that can help so many different patients from balance problems to plantar fasciitis
Cleveland, OH (PRWEB) September 18, 2009
Lake Erie Medical of Ohio announces the introduction of five new Thera-Band products that give healthcare providers new home exercise program options to build or expand their practice. Each new product carries the trusted Thera-Band name and reflects the high quality the brand stands for. Packaged for consumers, these products are designed to build practice revenues by dispensing products for use at home. Four of these products come with comprehensive illustrated exercise instructions for improved ease of use by patients. Additionally, many of these products can be used in-clinic and at-home, simplifying practitioner implementation. The new exercise products are:
Thera-Band Foot Roller
Made of supple natural rubber, the new Thera-Band Foot Roller is an ideal tool for patients who are seeking an affordable, simple and effective way to relieve foot pain caused by common conditions such as plantar fasciitis and over-activity. Using the exercises illustrated right on the box, patients with plantar fasciitis can use the roller as a device to stretch the plantar fascia and increase flexibility. Those experiencing soreness from tired feet will find the massaging benefits of the roller pleasant and therapeutic. In all applications, the Foot Roller can be chilled or frozen to help reduce inflammation.
Thera-Band Mini Ball
The new Thera-Band 9" Mini Ball joins a family of premier Thera-Band balls designed for core muscle strengthening. Tactile, stretchy PVC makes the Mini Ball responsive to the touch and non-slip when placed against a hard surface. This versatile product is ideal for use in-clinic or at-home, has applications in rehab and in wellness programs such as yoga and pilates, and is perfectly suited for users of all ages. An exercise poster is included to illustrate some of the most popular Mini Ball exercises by targeted body area.
Thera-Band Ankle & Wrist Weight Sets
Available in three color-coded weight sets, ranging from red (two 1 lb. weights), to green (two 1.5 lb. weights), to blue (two 2.5 lb. weights), Thera-Band Ankle & Wrist Weight Sets offer a progressive weight system. Unlike traditional in-clinic cuff rehabilitation weights, Thera-Band Ankle & Wrist Weight Sets are soft against the skin and offer exceptional comfort. The sleek neoprene exterior with adjustable strap easily adjusts to hug the wrist and ankle for a customized fit while the reflective trim provides added safety for outdoor use.
Thera-Band Stability Disc
The Thera-Band Stability Disc joins the complete family of Thera-Band stability products utilized for balance training, rehabilitation and sports performance enhancement. The 13" disc offers an unstable and sensory-stimulating surface designed to facilitate balance and proprioceptive training, and automatic postural reactions. Complete with an exercise poster, it is ideal for advanced balance exercises or for use as an active sitting cushion at home and at work. In-clinic, practitioners can complete their circuit of progressive balance training by combining the Stability Disc with other Thera-Band balance products.
Thera-Band Resistance Tubing Loop with Padded Cuffs
Featuring a padded connection point for a secure non-slip ankle connection, Thera-Band Resistance Tubing Loops with Padded Cuffs are ideal for sport-specific training and mid-range rehab and fitness programs. In clinic, practitioners will find the Tubing Loops with Padded Cuffs to be ideal for athletes and wellness patients. For those utilizing the product at home, an exercise guide is included to improve ease of use. Loops are supplied in the consistent system of Thera-Band progression in resistance levels of Red, Green, Blue and Black.
"TheraBand does it again with these new products that can help so many different patients from balance problems to plantar fasciitis," according to Lake Erie Medical President Bill Schuhle.
Patient empowerment, motivation, and active participation in home exercise programs that complement in-clinic care are all critical topics for today's healthcare providers. They promote better outcomes and a transition to a healthier lifestyle after recovery. For the practitioner this translates to improved patient relationships and results, increased referrals and stronger compliance with accepted standards of care.
About Lake Erie Medical of Ohio
Lake Erie Medical of Ohio specializes in PT/OT products geared toward professionals, clinics, industrial medicine, sports medicine, and athletic facilities. Our range of products can assist with assessment, treatment, rehabilitation, preventative exercise, and ongoing therapeutic requirements.
We also offer a wide variety rehabilitation and exercise products suitable for consumers to facilitate in-home therapy. More information is available at http://www.lakeeriemed.com
# # #