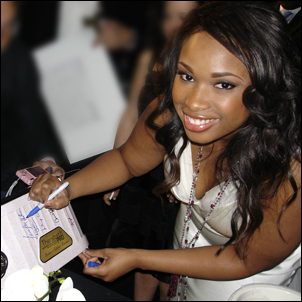 We want our customer's commitment to this cause to be obvious when others see a Therabath®PRO® paraffin bath featuring the pink color in their home, salon or office. It may not blend with their décor, but it will be a clear indication of their support
Stillwater, MN (PRWEB) March 12, 2007
Some of the hottest celebrities including LL Cool J, Vanessa Williams, Raven Symone, Jennifer Hudson, James Pickens Jr, Anika Noni Rose, Chandra Wilson and James Reynolds among others, autographed two pink Therabath®PRO® Paraffin baths, manufactured by WR Medical Electronics Co of Stillwater, MN, at the 38th NAACP Image Awards Celebrity Product Showcase held at the Shrine Auditorium in Los Angeles, CA on March 2nd, 2007. This small town company located in "the birthplace of Minnesota" is about to make a big impact for a national cause. All proceeds from the on line autographed baths auction will be donated to Susan G Komen for the Cure.
The on line auction will run April 2nd-11th, 2007 on ebay (via MissionFish.org). A link to the auction can be found at http://www.therabathpro.com/pink.php. Therabath has made a commitment to supporting breast cancer initiatives and will be adding other products bearing the iconic pink ribbon, or featured in a pink color. "We want our customer's commitment to this cause to be obvious when others see a Therabath®PRO® paraffin bath featuring the pink color in their home, salon or office. It may not blend with their décor, but it will be a clear indication of their support," says WR Medical Electronics Co. Marketing Manager, Elisabeth Thorn. Watch for these products to be retailed exclusively at http://www.therabathpro.com late summer 2007.
Paraffin therapy has been used effectively for decades to provide an alternative, drug-free approach to relieving muscle and joint pain or stiffness. The process of dipping a hand in the paraffin and removing it quickly prompts the wax to form a soft, supple, custom-fit glove on the hand. The warmth from the paraffin opens pores and a person's perspiration is brought to the surface leaving the skin soft and moist. The increase in blood flow also brings beneficial nutrients to the skin.
Therabath has been providing professional quality paraffin baths, refill paraffin and accessories since 1962. The Lifetime Guaranteed Therabath®PRO® professional unit is the industry standard for quality and is manufactured in Stillwater, MN under ISO 9001:2000 and ISO 13485:2003 standards. For more information about Therabath products, visit http://www.therabathpro.com or call 1-800-321-6387.
About Susan G. Komen for the Cure
Nancy G. Brinker promised her dying sister, Susan G. Komen, she would do everything in her power to end breast cancer forever. In 1982, that promise became Susan G. Komen for the Cure and launched the global breast cancer movement. Today, Komen for the Cure is the world's largest grassroots network of breast cancer survivors and activists fighting to save lives, empower people, ensure quality care for all and energize science to find the cures. Thanks to events like the Komen Race for the Cure, we have invested nearly $1 billion to fulfill our promise, becoming the largest source of nonprofit funds dedicated to the fight against breast cancer in the world. For more information about Susan G. Komen for the Cure, breast health or breast cancer, visit http://www.komen.org or call 1-800 I'M AWARE.
###