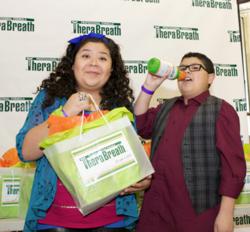 Golden Globe Award Celebrities fight Bad Breath with TheraBreath®
Hollywood, CA (PRWEB) January 25, 2012
This year at the Golden Globe Awards TheraBreath® was proud to take part in Connected's Celebrity Gifting Suite at Ben Kitay Studios in Hollywood. Each Celebrity received a TheraBreath® gift bag with TheraBreath Oral Rinse, TheraBreath Toothpaste and TheraBreath Mouth Wetting Lozenges.
Celebrities and TheraBreath® at the Golden Globe Awards
Throughout the event, many celebrities came by the TheraBreath gifting area to discuss their experiences with the product and to also learn more about how these natural products provide fresh breath. Some of the celebrities that were able to enjoy TheraBreath products included Rico Rodriguez of Modern Family, Raven Goodwin of Glee, Bai Ling of The Crow, Booboo Stewart of Twilight, Christian LeBlanc of The Young and the Restless and the 2011 Ms. America - Tracy Broughton, among many others. Needless to say, the products were very popular among the celebrities who are in need of fresh breath during the big Golden Globe Awards events. Click here to see pictures of the celebrities and their TheraBreath product gift bags.
About the Golden Globe Awards
The Golden Globe Awards was created by the Hollywood Foreign Press Association as an event to raise money for charity. The money generated during the event is donated to entertainment-related charities, as well as funding scholarships and other programs for future film and television professionals. During the event, awards are presented to honor actor's achievements in 25 categories; 14 in motion pictures and 11 in television.
Celebrities with Bad Breath
Over the years there have been many reports of celebrities with bad breath. The celebrities at Connected's Celebrity Gifting Suite need not worry about being put in this category as long as they are using TheraBreath® bad breath fighting products. Not only do the products fight bad breath halitosis, they also neutralize the bad breath-causing bacteria, providing fresh breath for both on and off-screen intimate moments.
About Dr Katz, the founder of TheraBreath®
Dr. Harold Katz is the recognized expert in the fields of bad breath, dry mouth and tonsil stones. Known as the 'Bad Breath Guru' from his numerous appearances on shows like The View and the CBS Early Show, he has helped millions of people around the world eliminate their bad breath problems. He is a graduate of UCLA and the UCLA School of Dentistry and has a degree in Bacteriology, also from UCLA.
About TheraBreath®
Since the introduction of TheraBreath® products in 1994, Dr. Katz has helped more than six million people in 98 countries fight bad breath through the use of the TheraBreath® System formulas, which help eliminate bad breath halitosis and allow users to gain newfound self-confidence. TheraBreath® is the world's top premium oral care system and has offices in Los Angeles, California. To learn more, visit us online at http://www.therabreath.com.
Corporate Address: Dr. Harold Katz LLC 750 N. Highland Ave. Los Angeles, CA 90038 - 800-973-7374.
# # #