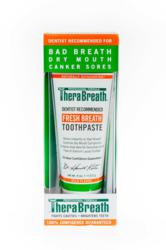 TheraBreath® Toothpaste does not require the use of water.
(PRWEB) November 13, 2012
New York and New Jersey residents displaced by the destructive forces of one of the worst hurricanes to batter the East Coast of the U.S. will soon be the recipients of a naturally formulated toothpaste that does not require the use of water. Containing a revolutionary compound created by Dr. Katz called OXYD-8, TheraBreath toothpaste provides a unique oxygenating action that not only eliminates bad breath but also stimulates saliva flow to leave the mouth feeling hydrated, clean and fresh. As a result of this TheraBreath donation, New Jersey and New York residents who do not have access to clean water will be able to maintain good oral health with the assistance of TheraBreath toothpaste.
Click here to to learn more about TheraBreath toothpaste.
TheraBreath chose to work with Convoy of Hope as a way to assist the millions of people who were left without electricity, heat and running water following Hurricane Sandy. Convoy of Hope helps people all over the world through community outreaches, partner resourcing and international food initiatives that are currently providing over 100,000 children in Kenya, Haiti and Nicaragua with daily meals. Volunteers working for Convoy of Hope also educate impoverished communities about agricultural techniques that promote self-sufficiency and a better quality of life.
Because of Dr. Katz's extensive research into oral hygiene and the fundamental causes of bad breath, tooth decay and gum disease, TheraBreath is proud to provide consumers and victims of Hurricane Sandy with a line of products that neutralize foul breath odors, eliminates harmful anaerobic bacterial responsible for most oral health issues and substantially reduces the risk of periodontal disease. Internationally recognized as the "Bad Breath Guru" and founder of California Breath Clinics, bacteriologist, dentist and UCLA graduate Dr. Harold Katz is an expert on oral health conditions that detrimentally affect teeth and gums—dry mouth, halitosis, tonsil stones and post nasal drip. By discovering that anaerobic bacteria is the primary culprit behind bad breath and dental diseases, he was able to create a patented compound called OXYD-8 that has been clinically proven to kill anaerobic bacteria, eliminate chronic halitosis and stimulate saliva flow. By placing a dab of TheraBreath toothpaste on a dry toothbrush, displaced residents of New York and New Jersey can fight cavities and tooth decay, keep their mouth hydrated, healthy and feeling clean without needing to use up water that may still be in limited supply.
In emergency situations like the one happening now in New Jersey and New York, TheraBreath's unrivaled brand of toothpaste containing OXYD-8 and other natural, antibacterial ingredients promotes the ability to maintain good hygiene when access to water is restricted or unavailable. Convoy of Hope and TheraBreath is proud to deliver 10,000 tubes of toothpastes to people suffering from the catastrophic effects of a powerful weather event that has stripped them of basic necessities.