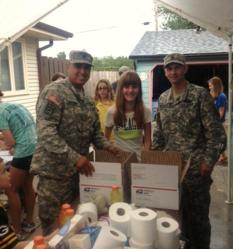 TheraBreath donates over 300 toothpaste and oral rinse items to U.S. military soldiers stationed in Afghanistan.
(PRWEB) September 10, 2012
TheraBreath donates over 300 toothpaste and oral rinse items to U.S. military soldiers stationed in Afghanistan. Due to the efforts of an eighth grade National Junior Honor Society student named Katie Pollock and Ray and Tracey Macklin, parents of recently wounded U.S. Army Special Forces Green Beret Staff Sergeant Benjamin Macklin, TheraBreath was made aware of the limited resources available to troops deployed in Afghanistan. In response to Ms. Pollock and Mr. and Mrs. Macklin's request for donations, TheraBreath generously provided troops with a variety of oral hygiene products.
The idea for this project originally came to Katie Pollock when she was trying to decide how to complete her required 10 hours of community service as a member of the National Junior Honor Society. She came to learn that one of her mother's co-workers had a son (a Special Forces Green Beret) who had been critically injured while deployed in Afghanistan. She also discovered that this soldier's family was committed to consistently sending a variety of supplies to him and his fellow soldiers.
After Katie's mother talked to the soldier's father about the lack of basic supplies for soldiers stationed in a remote area Afghanistan called Kajur Valley, she decided the best way to complete her project was to help contribute to the amount of supplies being sent overseas. As more and more companies answered her requests with generous donations, her project grew until it was large enough to require a website: http://www.wecarepacks.weebly.com.
She has also created an email address especially for this project: wecarepacks(at)wi(dot)rr(dot)com
Soldiers stationed in Afghanistan were surprised and grateful to receive hundreds of care packages containing essential food and personal hygiene products that they would otherwise lack. In addition to contributions by TheraBreath, other name-brand companies such as Kraft Foods, Kimberly-Clark Corporation, Gatorade (a division of Pepsi Cola) and Valeant Pharmaceuticals also participated in donating their products to the care package event. Items received by the soldiers include magazines, toilet paper, candy, tea bags, razors and handmade crocheted/knitted hats.
TheraBreath understands the importance of maintaining oral health, especially in war-torn areas where dental and medical services are not immediately accessible. Considering it inexcusable for soldiers to have to experience teeth and gum disease while protecting U.S. citizens from terrorism, Dr. Katz and TheraBreath will continue to support our overseas troops by providing contributions of their superior oral hygiene products.