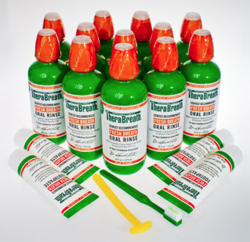 Up to $157 in Savings during the First TheraBreath® online Sale of the Year starting February 1st - 20th! Get Free Shipping!
(PRWEB) February 01, 2012
Announcing the first TheraBreath® online sale of the year, featuring Bonus Pak savings and free shipping. The TheraBreath® Bonus Pak sale is the best opportunity of the year to take advantage of great savings and stock up on these amazing products to fight bad breath, halitosis, dry mouth, canker sores, tonsil stones and other oral health issues. Be sure to act quickly, as the limited time deal is only available from February 1st through the 20th. The Bonus Pak sale also provides consumers the chance to save over 58 percent and earn up to $157 in free bonuses or choose up to $117 worth of products, on top of the savings.
Click here to visit the TheraBreath® Bonus Pak Sale Online
Free Shipping
All customers who place an order online for a Bonus Pak will receive free shipping within the US and Canada during the special sale. For those that struggle with halitosis every day and other oral health issues, this is an opportunity to turn it around and start enjoying fresh breath – just in time for Valentine's Day.
The TheraBreath® Bonus Pak sale gives the choice of eight bad breath fighting options to combat different types of nose, throat and mouth problems related to bad breath, canker sores, tonsil stones, dry mouth, halitosis and post-nasal drip. Halitosis sufferers that are looking to start treatment, manage chronic bad breath, or ensure kissable breath for the upcoming holiday, TheraBreath® has a Bonus Pak suited to their needs. Finally, with the help of TheraBreath® products, bad breath can be conquered once and for all.
Bad breath is one of many oral health issues that TheraBreath® can help treat. Other oral health issues that TheraBreath® may be used to treat includes a Bonus Pak for post-nasal drip.
During the limited time online sale, all Bonus Paks are marked down at least 58 percent off of the regular price with up to $157 in free bonuses. Be sure to take advantage of this first sale of the year with the extra benefit of free shipping for orders within the US and Canada. So for those suffering from halitosis and looking to ward off gum disease and more serious medical issues, TheraBreath is the best bet. With these savings, there's no time like the present to stock up on necessary oral care products. TheraBreath has been providing high-quality products to customers since 1994.
About Dr Katz, founder or TheraBreath®
Dr. Harold Katz is the recognized expert in the fields of bad breath, dry mouth and tonsil stones. Known as the 'Bad Breath Guru' from his numerous appearances on shows like The View and the CBS Early Show, he has helped millions of people around the world eliminate their bad breath problems. He is a graduate of UCLA and the UCLA School of Dentistry and has a degree in Bacteriology, also from UCLA.
About TheraBreath®
Since the introduction of TheraBreath® products in 1994, Dr. Katz has helped more than six million people in 98 countries fight bad breath through the use of the TheraBreath® System formulas, which help eliminate bad breath and allow users to gain newfound self-confidence. TheraBreath® is the world's top premium oral care system and has offices in Los Angeles, California. To learn more, visit us online http://www.therabreath.com.
Corporate Address: Dr. Harold Katz LLC 750 N. Highland Ave. Los Angeles, CA 90038 - 800-973-7374.