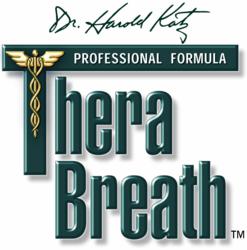 Get a Free bottle of the New TheraBreath® Plus Oral Rinse!
(PRWEB) November 17, 2011
TheraBreath® is giving away a free bottle of the New TheraBreath® PLUS Oral Rinse to all customers who place any order online over $40 in the US and Canada between November 14th - 21st. TheraBreath® PLUS Oral Rinse is a newly improved oxygenating mouthwash formula that is made with ZincRx, Tea Tree Oil, Green Tea, Aloe Vera, Xylitol, and natural mint oils for a delicious taste. This highly effective mixture of ingredients is clinically-proven to provide lasting extra fresh breath, a healthier mouth and reduced bad breath. This product is the only anti-acid mouthwash, with a balanced pH used to fight oral acids and decrease halitosis, dry mouth, tooth decay and gum disease. Use coupon code BRNS40 during checkout to qualify for the limited time free TheraBreath® PLUS oral rinse product offer, a $15.00 value!
About TheraBreath® PLUS Oral Rinse Ingredients

Green Tea and Tea Tree Oil in oral care products reduces the odors that cause bad breath more effectively than gum, mints and capsules containing parsley-seed oil.
Xylitol has been shown to dramatically reduce the bacteria that cause cavities, plaque and bad breath.
Aloe Vera aids in the elimination of gum bleeding and inflammation, and speeds up oral healing.
The New TheraBreath® PLUS Oral Rinse is an amazing product and available for free! Visit TheraBreath.com between November 14th and 21st to claim a free bottle today. While online, check out the other great TheraBreath® oral care products for the treatment of bad breath, halitosis, tonsil stones, canker sores and dry mouth. TheraBreath® is guaranteed to be the most effective oral care product that you have ever used. Be sure to use coupon code BRNS40 during checkout. Click here to learn more about the new TheraBreath® PLUS Oral Rinse.
Founded by Dr. Harold Katz, DDS, TheraBreath.com is the world's premier maker of oral care products. The TheraBreath® System formulas are clinically proven to eliminate halitosis and improve oral health. Join the other six million people in 98 different countries that have successfully used the TheraBreath System formulas to eliminate bad breath. To learn more, visit us online at http://www.therabreath.com.
Corporate Address:
Dr. Harold Katz LLC
750 N. Highland Ave.
Los Angeles, CA 90038
Los Angeles TheraBreath Office:
10289 West Pico Blvd.
Los Angeles, CA 90064
1-800-963-9273
###