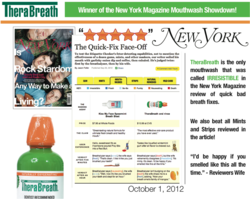 New York Magazine rates Thearbreath® Oral Rinse as IRRESISTIBLE!
(PRWEB) October 16, 2012
Described as having an IRRESISTIBLE, freshening effect on bad breath in the New York Magazine review of quick bad breath fixes, TheraBreath oral rinse beat all other name brand breath strips and mints reviewed by the magazine's Etiquette Checker, whose wife exclaimed after he had used TheraBreath rinse: "I'd be happy if you smelled like this all the time!"
The New York Magazine's Etiquette Checker began his investigation into the efficacy of various oral hygiene products to eliminate bad breath by eating onion dip with garlic and drinking coffee in order to give himself bad breath. Shortly after consuming these foods famously known to cause bad breath, a professional breathalyzer instrument and the Etiquette Checker's spouse verified that he did indeed have halitosis--bad enough to warrant the use of a powerful breath freshener.
Five minutes after using an oral rinse called Kiss My Face, the Etiquette Checker asked his spouse how his breath smelled. Her answer? "Just like he had been asleep for an hour". In other words, not so fresh. However, after he used TheraBreath's Oral Rinse, she found that she needed only one word to describe the way his breath smelled -- IRRESISTIBLE.
About New York Magazine
For over 40 years, New York magazine has provided consumers with fascinating profiles of the Big Apple's unique brand of culture, shopping, nightlife, style and politics, in addition to well-researched, informational articles concerning science, health and technology. Winner of more National Magazine Awards than any other magazine (19), New York magazine boasts a circulation of over 400,000, with its website receiving nearly seven and a half million hits each month. Recognized as being one of the most successful, cutting-edge magazines in the industry, New York can always be counted on for publishing in-depth, accurate and personally valuable articles that are designed to enhance and educate its many devoted readers.
About Therabreath® Oral Rinse
Breath freshening oral rinses competing against TheraBreath's own oral rinse in New York's mouthwash showdown contest do not contain a special ingredient found in TheraBreath oral rinse-- OXYD-8, an oxygenating compound that increases saliva flow and supplies the mouth with rich amounts of oxygen molecules that effectively kill anaerobic bacteria responsible for bad breath. By integrating this patented compound with other, powerful ingredients comprising his TheraBreath products, Dr. Katz provides consumers with oral hygiene rinses, toothpastes, mints, strips and gums that not only instantly freshen breath but also supports all day breath freshness by preventing dry mouth conditions that are conducive to bacteria growth.
Although the Etiquette Checker's wife was asked to rate his breath after he had used TheraBreath's oral rinse, she did so only because she was asked to in order to validate the research he was conducting on breath fresheners. Fortunately, because he had used TheraBreath oral rinse, he had breath that she found fresh, clean and IRRESISTIBLE. However, how polite is it to actually tell someone else they have bad breath? Is it an acceptable form of constructive criticism that may save the person from further embarrassment? Or is it bad manners to acknowledge something as embarrassing as halitosis?
Etiquette and Bad Breath
Etiquette experts suggest that when encountering someone with bad breath, the most polite action to take is to offer a piece of breath freshening gum or mint. TheraBreath's line of oral hygiene products offers OXYD-8-rich breath mints and chewing gum that are just as effective as TheraBreath oral rinse at generating clean-smelling, IRRESISTIBLE breath in minutes. Another etiquette rule regarding bad breath states that informing someone of his or her halitosis should be done alone and in a straightforward but gentle manner. Halitosis exists for a variety of reasons, including dental issues such as cavities and gum disease. Unfortunately, some people simply cannot afford seeing a dentist as much as they should, which can be a delicate subject to broach.
In addition to OXYD-8, TheraBreath oral rinse also contains powerful ingredients that effectively eliminate dry mouth and the anaerobic bacteria responsible for most oral diseases. Politely suggesting TheraBreath oral rinse to people suffering from chronic bad breath will give them the chance to experience IRRESISTIBLE fresh breath and promote healthy gums and teeth as well.
Free Shipping Offer from Therabreath®
As a way of celebrating this amazing achievement, TheraBreath is now offering FREE SHIPPING until October 17, 2012 on any purchase made from TheraBreath.com. To take advantage of this promotional offer, just enter coupon code C72HRFR when you check out your order or simply call 1-800-97-FRESH to place an order with one of TheraBreath's representatives. Offer is valid for orders shipped within the US and Canada only and applies to the least expensive standard shipping method available.
In addition, TheraBreath constantly runs its free shipping advertisement that applies to all orders over $99! Although the code C7HRFR will cover shipping expenses for any order amount for the next 72 hours, consumers can always take advantage of our $99 and up free shipping offer anytime fresh, clean breath and healthy teeth and gums are desired.
Remember that TheraBreath's mouthwash beat out all fast-dissolving breath strips and breath mints to give the New York magazine's Etiquette Checker IRRESISTABLE breath by actual human being standards—specifically his wife. Although a "bad breath checker" was used in the investigation to also test his breath, these over-the-counter devices are poorly made with inferior materials that cost less than a few dollars. Additionally, these breath checkers are not known for their accuracy and should not be relied upon as a definitive guide to whether halitosis exists, which makes this study even more valid due to using a real human being to rate another person's breath.
As a winner of the New York magazine's Mouthwash Showdown contest featuring its famous Etiquette Checker, TheraBreath's oral rinse once again reveals the power of OXYD-8 and the reinforcement of other naturally effective ingredients that eliminate halitosis and the germs that cause embarrassing bad breath. For confirmation of this information, click here to read the article at NYMag.com and learn firsthand the freshening, bacteria-fighting power of TheraBreath's ultimate mouthwash.