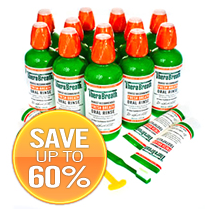 The Pre-Built Package of TheraBreath Products worth up to $172 is yours FREE just for buying a Bonus Pak!
(PRWEB) October 30, 2012
Now is the perfect time to save hundreds of dollars and, at the same time, prevent harmful oral bacteria from damaging teeth and gums by taking advantage of TheraBreath's Bonus Pak sale, a highly anticipated event that occurs only two or three times a year. Existing TheraBreath customers anxiously await these Bonus Pak sales events that provide impressive savings on the best toothpastes, mouthwashes, sprays and rinses available on the market today. Moreover, TheraBreath Bonus Pak sales events allow new customers to not only take advantage of tremendous savings but also to experience for the first time the astonishing effectiveness of TheraBreath's oral hygiene products.
Click here for the TheraBreath Bonus Pak Sale.
By using naturally powerful, oxygenating ingredients in his oral hygiene products, Dr. Katz enables people suffering from chronic halitosis due to dry mouth syndrome the ability to experience clean, fresh breath by supplying the mouth with oxygenating molecules that stimulate saliva production. Additionally, TheraBreath products also remove destructive anaerobic bacteria accumulating in oral environments that lack sufficient saliva flow. Because anaerobic bacteria thrive in dry, airless conditions, a mouth that remains stagnant and sullied with food particles, mucus and other mouth debris facilitates bacterial growth to create an unhealthy environment for teeth and gums.
With this announcement of TheraBreath's Bonus Pak sale, consumers are already briskly purchasing one or more of these bonus paks:
1. Bonus Pak A—contains one professionally designed toothbrush, one tongue cleaner/scraper, four TheraBreath toothpastes and 12 TheraBreath oral rinse products
2. Bonus Pak C—for people with severe, chronic bad breath, the "C" bonus pak provides 12 PLUS oral rinses based on a new, potent formula created by Dr. Katz, one toothbrush, four PLUS toothpastes and one tongue cleaner
3. Bonus Pak E—specifically formulated to eliminate anaerobic bacteria directly responsible for bad breath, tooth decay and gum disease. Bonus Pak "E" contains six PerioPastes, 10 PerioRinses, five extra mouth guards and one tongue cleaner. Dr. Katz's PerioTherapy toothpaste eliminates germs responsible for periodontal disease and bleeding gums by incorporating his most powerful antibacterial ingredients.
4. Bonus Pak F—whiten stained teeth and freshen stale, odorous breath with TheraBreath's Bonus Pak F, a generous package full of TheraBRITE PLUS toothpastes, TheraBRITE PLUS whitening gel, two bottles of AktivOxigen oral rinse, 12 sheets of AktivOxigen tablets, one toothbrush and one tongue cleaner.
5. Bonus Pak H—with six bottles of TheraBRITE PLUS rinses, six TheraBRITE PLUS whitening gel syringes, four TheraBRITE PLUS toothpastes, toothbrush, tongue cleaner and extra mouth guards, TheraBreath's Bonus Pak H allows consumers to start banishing bad breath and transforming dull, yellowish teeth into pearl-white, gleaming teeth that look clean and healthy.
Purchasing one or more of TheraBreath's Bonus Paks will save consumers at least 60 percent when compared to the cost of purchasing each product separately. Because it may be difficult to choose among these five great packages, Dr. Katz has provided a Bonus Pak Recommender help section that answers questions commonly asked by people interested in TheraBreath oral hygiene products.
Not only does TheraBreath's Bonus Pak Sale offer hundreds of dollars in savings, this one-of-a-kind sale also presents two other options from which to choose. When ordering one of Dr. Katz's Bonus Paks, customers can also select the option to receive the TheraBreath "Pre-Built" package of oral hygiene products, a free gift worth up to $172. Or, if preferred, customers purchasing a Bonus Pak can choose to include "Make Your Own" package, a FREE value that allows buyers to select special TheraBreath products listed on the pre-checkout page of the TheraBreath Bonus Pak website.
All U.S., Mexico and Canada customers can also take advantage of the FREE shipping applicable to all Bonus Pak Special offers as well. That's right—anyone purchasing a TheraBreath Bonus Pak PLUS one of the FREE "Pre-Built" or "Make Your Own" packages comprised of special TheraBreath products will not need to pay for any shipping and handling costs.
Don't let a chronically dry mouth, severe, embarrassing bad breath or the potential for periodontal diseases to damage teeth and gums. Try one of Dr. Katz's TheraBreath Bonus Pak specials today to start treating the mouth with professional strength oral hygiene products and also receive a FREE GIFT and FREE SHIPPING with each purchase. Get started at TheraBreath.com.