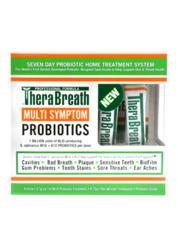 Buy One Get One (BOGO) on TheraBreath® Oral Health Products that help Prevent the Flu.
(PRWEB) January 23, 2013
With near epidemic flu rates and shortages of flu vaccines affecting most of the country, TheraBreath Oral Hygiene is now offering a buy one, get one free deal on select items starting Wednesday, January 23 and continuing until January 31 at 11:59 p.m. Because influenza viruses enter the body primarily through the nose and mouth, maintaining good oral hygiene is vital to preventing viruses from destroying healthy cells and producing the high fever, vomiting, body aches and coughing associated with the flu. Click here to learn more.
Included in this buy one, get one free deal is TheraBreath's Multi Symptom Probiotics that contain powerful BLIS M-18 and BLIS K-12 probiotics capable of eliminating bad breath, teeth sensitivity, plaque, gum problems and cavities. In addition, this multi-symptom probiotic formula has been clinically shown to fight against strep throat infection and shorten the length of flu sickness. Probiotics are live bacteria beneficial to humans because they augment the microbe population within the intestinal tract, an action that can effectively inhibit the ability of pathogens to induce various sicknesses, especially influenza.
Keeping nasal passages as clear of microbes as possible is another way to obstruct the flu virus from entering the bloodstream. During TheraBreath's buy one, get one free sale, customers can purchase TheraBreath's Nasal Sinus Drops that not only maintain fresh breath by ridding the back of the throat of the bad breath associated with post nasal drip mucus, but also cleanse nasal passages of microbes carrying infectious diseases like the flu. As a potent virus easily transmitted by air, anyone can inhale a flu virus that has been coughed or sneezed into the air as far as six feet away (CDC: How Flu Spreads). By purchasing one bottle of TheraBreath's Nasal Sinus Drops, you not only get another one free, that also means being able to prevent pathogens from entering via the nose and throat, helping you to avoid the flu for the rest of the winter.
In addition to freshening breath and reducing dry mouth by stimulating saliva flow, TheraBreath Mouth Wetting Lozenges contribute to healthy immune system functioning, facilitate wound healing and have been shown in numerous clinical studies to significantly reduce the length of a cold. TheraBreath lozenges contain rich amounts of zinc gluconate, a nutrient essential to the optimal functioning of the immune system as well as to the regulation of trace elements essential to ongoing health. In a meta-analysis of research results compiled by the Cochrane Collaboration in 2011, zinc correlated with significant reductions in the severity and duration of cold symptoms (Zinc and Cold Symptoms)
Using the same toothbrush and tongue cleaner after being sick can also increase the chance of repeatedly suffering from colds and the flu. During TheraBreath's buy one, get one free sale on select oral hygiene items customers can take advantage of having two clean toothbrushes and tongue cleaners available for half the price. While scientists know that most influenza viruses can live without access to a host cell for about two days, the viability of some viruses depend on the type of surface with which it comes in contact (Biomed Central Infectious Diseases). In particular, the flu virus may sustain itself longer on impermeable or plastic surfaces than absorbent surfaces, making it even more important to brush teeth and clean the tongue with sterile oral hygiene utensils manufactured by TheraBreath.
Between Wednesday, January 23 and Thursday, January 31, take immediate action to avoid becoming a victim of the flu this season by purchasing any qualified TheraBreath Oral Hygiene product during this new buy one, get one free sale. Brushing, rinsing and flossing with TheraBreath products will not only inhibit the development of serious respiratory and gastrointestinal illnesses caused by the influenza and cold virus but will also eliminate bad breath, dry mouth and improve overall oral hygiene.