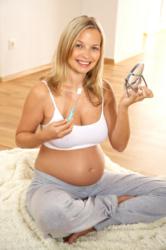 Recent clinical research studies indicate that gum disease may interfere with conception.
(PRWEB) August 28, 2012
In response to recent clinical research studies indicating that gum disease may interfere with conception, TheraBreath Oral Hygiene Products announces the release of three unique gum and teeth products designed to promote healthy gums and reduce the risk of gum disease in pregnant women.
Dr. Harold Katz, bacteriologist, dentist and creator of the TheraBreath Oral Hygiene product line, has developed an effective and all-natural treatment plan for pregnant women to use as a way to halt gingivitis safely during pregnancy. According to the article, "Exploring the relationship between periodontal disease and pregnancy complications" written by Dr. Steven Hoffenbacher et al and published in the October, 2006 edition of The Journal of the American Dental Association: "Most of the clinical studies indicate a positive correlation between periodontal disease and preterm birth."
Recent studies also have shown that there are microbiological and immunological findings that strongly support the association. Dr. Hoffenbacher further states that "studies indicate that periodontal infection can lead to placental-fetal exposure and, when coupled with a fetal inflammatory response, can lead to preterm delivery".
Three products--PerioTherapy Oral Rinse, the PerioTherapy System Kit and PerioTherapy Toothpaste--will control bleeding gums, eradicate detrimental biofilm and relieve pregnant women from worrying about whether their oral health will negatively affect the outcome of their pregnancy.
Used two or three times daily, TheraBreath's PerioTherapy Oral Rinse contains natural and safe ingredients such as purified water, TheraBreath's Zinc Rx formula, tea tree leaf oil, CoQ10 and proprietary stabilized Oxychlor compounds called PeriO2.
Concentrated levels of PeriO2 enhance the mouth with bacteria-eliminating oxygen molecules that quickly and efficiently kill microbes responsible for gingivitis and plaque. In addition, the special ZincRx formula included in TheraBreath's PerioTherapy Oral Rinse provides zinc ions that help contribute to eradicating destructive oral bacteria and stop gums from bleeding.
The PerioTherapy System Kit contains the oral rinse and specially formulated toothpaste that can be squeezed into gum pockets using the syringe provided to rid these hard-to-reach areas of bacteria. Dr. Katz designed this kit to provide pregnant women and anyone else wanting healthy teeth and gums with the ability to stop periodontal disease, bad breath, halitosis and improve all aspects of oral health safely and naturally.
Results of new research studies investigating the effects of gum disease on pregnancy have revealed that periodontal disease and gingivitis exacerbated by intense hormonal changes may increase the risk of pregnancies ending in low birth weight babies, preterm birth, preeclampsia and even fetal loss.
At the 2011 conference of the European Society of Human Reproduction and Embryology, physicians and obstetricians reported that gum disease, especially gingivitis, may possibly cause premature birth or make it difficult for women who have gum disease to conceive. This conclusion resulted from a Western Australia study called SMILE in which researchers followed nearly 4,000 pregnant women through their pregnancy while performing oral examinations on subjects to determine who suffered from gum disease.
Pregnant women experience elevated levels of progesterone and estrogen in response to the development of a fetus. These hormones not only stimulate oral bacterial growth but also make the gums and teeth more sensitive to a biofilm called plaque. Corrosive acids produced by plaque are ultimately responsible for bad breath, gingivitis and periodontal disease that systematically and viciously attack tooth enamel and gums. Symptoms of gum disease during pregnancy are swollen, purplish-red gums that bleed while brushing teeth and a shiny appearance to gum areas that are extremely swelled and sore to the touch.
Due to hormones and other extreme changes occurring within a pregnant woman's body, the chance of developing gingivitis is nearly 70 percent, with the disease usually appearing in the second month when hormone levels begin rising. Preventing accumulation of acidic plaque means brushing two to three times a day, flossing and rinsing with mouthwash, eating healthy amounts of fresh fruits and vegetables and thoroughly washing the mouth after experiencing morning sickness.
Safely preventing bacterial gingivitis from infecting gums, eroding tooth enamel and possibly causing premature birth also means using oral hygiene products that do not contain ingredients harmful to the unborn child and the mother. TheraBreath's new line of oral hygiene products have been especially formulated to protect pregnant women who may naturally develop hypersensitivities to a variety of chemicals (again, due to hormone changes) that can initiate serious health conditions such as allergic reactions or blood toxicities.