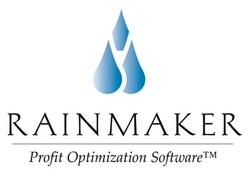 The Rainmaker team understands our industry and is always ready to help with business focused counsel when we have questions.
Atlanta, GA (PRWEB) January 7, 2009 -
When it comes to maximizing revenue potential, casino hotel companies understand that service and support ace nearly every other benefit a technology provider can deliver today to their complex business. Revenue managers at the world's largest casino hotel companies say that beyond solid technology, a system provider's service, business expertise and IT support are essential to their success.
Harrah's Entertainment, Inc. hosts Rainmaker's revolution revenue management system on Harrah's own servers and maintains its own development box. There is a tight link between the companies that includes biweekly meetings where the Harrah's and The Rainmaker Group's teams discuss ways to use the technology to meet the latest price optimization business challenges, such as how to create the most profitable overbooking strategy to maximize revenue generated.
"Harrah's has relied on some form of Rainmaker's technology for eight years, and our 33 properties continue to use its revenue management system today," said Chris Bishop, senior director of corporate revenue management for Harrah's Entertainment, the world's largest provider of branded casino entertainment. "Revenue management technology is essential to our operation, and so is Rainmaker's shared knowledge of the casino business; we do not have to pay for Rainmaker's learning curve."
Rainmaker's team offers ongoing training and support to Harrah's revenue management and IT team so Harrah's guest rewards program delivers optimum benefits to the company. The Rainmaker system integrates with Harrah's large Total Reward database that tracks every player individually to provide the highest service level to all guests by optimizing room rates based on total guest value. The Total Reward system's transparency helps guests understand their own gaming level, as well as the additional benefits at the next highest level if they play more. Players that understand their gaming levels, understand the prices they pay, or do not have to pay when comped, for hotel rooms.
Maximize group business
With group sales comprising as much as 40 percent of many casino hotels' business, Rainmaker software also provides large-group RM for the gaming industry--unlike any other revenue management solution. Rainmaker works consistently to extend the value of its revolution Product Suite to optimize rates and profitability for the unique operations and marketing strategies of gaming properties.
"The Rainmaker team works with many of the largest casino hotel companies to adapt the revolution Product Suite system to each firm's operation and policies while finding the best ways for us to optimize the profitability for the large group business segment," said Bruce Barfield, president of The Rainmaker Group.
The Rainmaker support team works closely with companies that include Foxwoods Entertainment, Trump Entertainment Resorts, MGM Mirage, Harrah's Entertainment, Boyd Gaming and others to enable its clients to:

Optimize profitability while protecting negotiated group rates
Adapt the system to forecast group pickup and base rates on real group activity
Provide "revenue by building" and other custom reporting.
Harrah's Chris Bishop said, "The Rainmaker team understands our industry and is always ready to help with business focused counsel when we have questions."
Valuable give and take
For Bishop, the partnership with Rainmaker provides a valuable give and take. "Along with our bi-weekly meetings, we also provide input to Rainmaker's development team that we think will enhance the system," he said. "Rainmaker's support team frequently implements our ideas in version upgrades. Additionally, Rainmaker's annual casino hotel steering committee meetings are a valuable peer forum to brainstorm ideas that inform system development, most recently the Version 1.6 upgrade."
Operators view those meetings as an important part of Rainmaker's service and ongoing education that focuses on the latest revenue management strategies. Barfield said, "Rainmaker relies on the meetings as an 'operator think tank' to learn how the industry is changing and listen to what we can do to make our products more effective for users. When a system provider is knowledgeable about its clients' business and willing to provide personalized service, a true partnership develops that adds value to the companies and the entire industry."
About Rainmaker Group
The Rainmaker Group is a software and services company that provides revenue management for more than one-half million units in the gaming hospitality, multifamily housing and other industries. Rainmaker implements and supports the revolution Product Suite, which maximizes total property profitability for operators of casino hotels and other hospitality enterprises. The company enables clients to identify and maintain availability for their most profitable revenue sources through revenue management implementations. The Rainmaker Group helps casino hotels increase profitability through the accurate, instantaneous ability to determine the minimum acceptable value of each guest. This increases client profitability by securing the most profitable customers and developing more effective business processes. Hospitality clients include Boyd Gaming, Harrah's Entertainment, Omni Hotels, MGM MIRAGE, Trump Entertainment Resorts and other leading hotel companies.
The Rainmaker Group also provides the revolution LRO profit optimization solution that enables multifamily housing operators to maximize revenue from apartment leases. revolution LRO lease rate improvement results have been reviewed and validated by independent accounting firms. For more than five years revolution LRO has delivered optimized leasing rates to the largest operators in the industry including Archstone, Equity Residential, Post Properties, Laramar Group, Home Properties, Simpson Housing, Mid-America Apartment Communities, Carmel Partners and other leading multifamily housing companies.
The Rainmaker Group
Bruce Barfield, President
5755 North Point Parkway
Suite 77
Alpharetta, GA 30022
Phone: 678-578-5777
http://www.letitrain.com/?campaign=PRWebRMServiceJan62009
Media Contact - North America
Julie Keyser-Squires, APR
Softscribe Inc.
180 River Springs Drive NW
Atlanta, GA 30328
Phone: (404)256-5512
http://www.softscribeinc.com
###