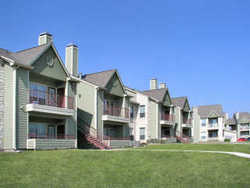 The software creates a more objective rate setting process. This takes a load off managers while setting the most appropriate renewal rate.
Alpharetta, GA (PRWEB) November 10, 2010
Savvy, well-trained property managers are a key ingredient in the formula for success at PRG Real Estate Management. COO Ron Monson summarizes the dynamic strategy that built the Philadelphia company's portfolio of 52 multi-family communities across 11 states: purchase and upgrade well-located properties that are performing under their economic potential; and hire top-notch property managers who handle operations like business executives, not caretakers.
PRG's managers take full responsibility for running a profitable operation without sacrificing quality. "Each manager is the CEO of his or her property," explains Monson. "We rely on our managers to perform a wide range of business duties from competitive market surveys and advertising to setting rents."
Because managers play a central role, PRG provides them with the best training and technology available. The latest addition to PRG managers' business toolkit is Rainmaker LRO™, the multifamily lease rate optimization and revenue management solution from The Rainmaker Group and the leading multifamily revenue management solution in the industry. Before PRG selected LRO, it evaluated Rainmaker and a second company, and then set up a pilot test of the LRO system in five of its communities.
'Just let the system do its job and see what happens'
PRG selected properties with top performing managers for the pilot test, says Monson. "We wanted to measure LRO's performance with our best teams. If they expressed reluctance, we urged them to just let the system do its job and see what happens." Here is what happened:

PRG chose two properties in each of five markets: Orlando, FL; Lexington, KY; Durham, NC; Winston-Salem, NC; and Newport News, VA.
One property in each city was equipped with LRO, the other set rents according to the manager's traditional method.
Performance was better at four of the five properties tested when compared against the control property. And the fifth property actually had the highest revenue increase of any of the test properties, but the control property in the same market increased even more.
Due to the pilot's early results, PRG concluded the test after only four months. "Results were positive immediately and improved more each month," says Monson. "It was obvious after four months that we were going with LRO."
The abbreviated pilot fit well with PRG's plans to fully implement the rate optimization solution in all its communities by February 2011 for the next leasing season.
As LRO consistently outperformed the controls, pilot property managers gained confidence and contributed ideas for improving the process. Rainmaker's professional multi-family experience made for a smooth handoff, says Monson. A Rainmaker business consultant sat in on the weekly pricing calls with property managers and coached PRG's revenue manager as the company got up to speed on using the software.
PRG elected to continue the pilot's weekly pricing calls as a new best practice, says Monson. "During the pilot, all five managers were on every call to listen and exchange ideas. It was a collaborative process and managers felt they could provide honest feedback."
Applying science to the art of pricing
PRG's growing portfolio drove the decision to seek an automated rate optimization solution, Monson said. "A growing inconsistency in rent setting was developing from property to property." Managers were looking at supply and demand in their own immediate area rather than on a broader scale. They were reading current market conditions rather than projecting supply and demand months ahead. "We wanted to leverage technology to standardize the process and apply science to the art of pricing."
LRO produces optimized pricing recommendations for a large variety of unit types based on hundreds of factors that influence rate setting, including traffic and lease duration, move-in dates, competitive influences, and other metrics. The system also produces enterprise-wide demand forecasts by measuring and analyzing historical and current market metrics and performing calculations necessary for occupancy predictions that are dynamically updated as market conditions change.
Monson said there was an additional LRO bonus: property managers' renewal decisions are also supported by advanced analytics. "The software creates a more objective rate setting process. This takes a load off managers while setting the most appropriate renewal rate."
About PRG Real Estate Management
PRG Real Estate Management is a company that buys, improves, and actively manages apartment communities in the Mid-Atlantic and Southeast regions. It has a focused formula for success to acquire properties in excellent locations, continually upgrade them, and count on the best people to manage them for peak performance. To date, PRG owns and manages 13,500 units from Pennsylvania to Florida, Texas to Illinois. It has a solid portfolio of attractive, well run communities and is a financially healthy and nimble 400+ person organization. In all of its relationships, PRG strives for integrity and mutual satisfaction.
About Rainmaker Group
The Rainmaker Group is a Microsoft Gold Certified Partner software and consulting services company that provides the LRO profit optimization solution enabling multifamily housing operators to maximize revenue from apartment leases. Rainmaker LRO™ is used by more than 60 percent of the companies deploying revenue management systems in the industry today and is the only multifamily revenue management application whose results have been verified by two industry leading management consulting firms. For more than nine years, LRO has delivered optimized leasing rates to the largest operators in the industry including Archstone, Equity Residential, Post Properties, Laramar Group, Home Properties, Simpson Housing, Mid-America Apartment Communities, Carmel Partners, PRG Real Estate and other leading multifamily housing companies.
###