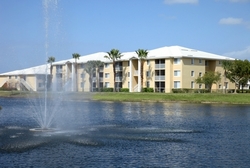 When community managers can say: `We are offering you our best price,' it frees them up to focus on positioning an apartment home's benefits to meet a prospective resident's personal needs.
Alpharetta, GA (PRWEB) November 23, 2010
Northland Investment Corporation, a privately-held, fully integrated real estate company focused on the acquisition, development, operation and long-term ownership of multifamily and commercial real estate throughout the United States, realized a 3.1 percent revenue lift during its successful pilot test of the Rainmaker LRO revenue management pricing optimization system. In its pilot test, Northland matched properties that used LRO to set rates with similar properties where experienced community managers set rents and renewal rates.
"Starting in February 2010, we pilot tested the Rainmaker LRO automated multifamily revenue management system at eight properties in Austin, Texas," said Bill Thompson, Northland's senior vice president - multifamily and asset management. After six months, the communities using LRO showed an average of 3.1 percent higher rental revenue. "A 3.1 percent lift is significant, especially when you extrapolate that across a portfolio," said Thompson. For Northland, that portfolio covers more than 60 communities totaling over 17,000 units.
Based on the pilot's success, Northland implemented Rainmaker LRO in Tucson, Arizona and is currently rolling the system out in its Florida and North Carolina markets. "We expect to roll out LRO across our entire portfolio by the end of the first quarter of 2011," Thompson said.
Hidden benefits of automated rate setting
In addition to the revenue lift, Thompson noted that there were hidden benefits to using an automated price optimization system. "The automated system enabled us to establish parameters for renewals with greater consistency and discipline and bring a corporate mentality and structure to the process that did not exist before," he said.
Another benefit surfaced by taking the pricing component out of community managers' hands. Thompson said that automating the rate-setting process allowed his community managers to focus more on selling their apartment homes based on the community's value and appeal rather than price. "Our community managers became better sales people because they did not have to negotiate on price," he said. "When community managers can say: `We are offering you our best price,' it frees them up to focus on positioning an apartment home's benefits to meet a prospective resident's personal needs."
Rainmaker also established weekly pricing calls for Northland's LRO communities in which community managers report on various market factors that impact their price setting, such as competitors' rates, traffic patterns, conversion rates, and exposure levels. "The pricing call process explains the LRO metrics and the reasons for rates; this information fosters strategy discussions that give community managers greater visibility into their markets and pricing and how other community managers are selling their apartment homes. This sharing of information and analysis makes them all better community managers," Thompson said.
A smooth transition
Many of Northland's pilot community managers were familiar with automated rate management systems. "For them, it was being able to use a management tool they valued," Thompson said, explaining that these were community managers who had come to the company via acquisitions. "Our other community managers learned to use LRO quickly and became fans during the pilot test. From the very start, we were impressed with the level of integration of Rainmaker LRO with our MRI property management software," he said. "Rainmaker analysts understood our business and how the system acquired its occupancy and forecasting data from MRI. They participated on every pricing call, and their IT staff was always there to assist with the MRI integration as communities converted to LRO."
Rainmaker LRO inspires new business practices
Northland evaluated other providers before it decided to pilot test LRO. "We selected Rainmaker LRO because of its better integration with our MRI software, as well as the fact that it utilized what we thought was a better renewal pricing strategy," Thompson explained, adding that the LRO rate optimization process itself motivates community managers to have a greater knowledge of their apartment homes and markets. "Just doing the inventory and mapping out things like the number of bedrooms, square footage, and exposures enables community managers to justify why some apartment homes are priced higher than others. This results in stronger community managers and a stronger rent roll."
About Rainmaker Group
The Rainmaker Group is a Microsoft Gold Certified Partner software and consulting services company that provides the LRO profit optimization solution enabling multifamily housing operators to maximize revenue from apartment leases. Rainmaker LRO is used by more than 60 percent of the companies deploying revenue management systems in the industry and, uniquely, LRO's lease/rent revenue optimization success has been verified by independent third party consulting firms. For more than nine years LRO has delivered optimized leasing rates to the largest operators in the industry including Archstone, Equity Residential, Post Properties, Laramar Group, Home Properties, Simpson Housing, Mid-America Apartment Communities, Carmel Partners and other leading multifamily housing companies.
About Northland Investment Corporation
Founded in 1970, Northland Investment Corporation is a privately held, fully integrated company focused on the acquisition, development, operation and ownership of investment real estate throughout the United States. Northland owns a $2 billion diversified portfolio of 18.5 million square feet in ten states. For more information on Northland Investment Corporation, visit http://www.northland.com.
###