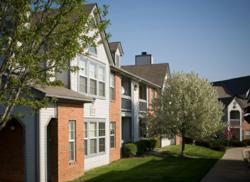 We attribute the significant rent growth across our portfolio year-to-date directly to LRO.
(PRWEB) June 09, 2011
There is only one thing Resource Residential likes better than the smart science involved in automated rate setting – the results. Since rolling out its automated multifamily revenue management software solution two years ago in its 52 communities from Maine to the Southwest, the apartment management company has followed the system's recommendations to lease rate increases as high as 15% for some communities.
"We use the LRO™ revenue management system from The Rainmaker Group at all our properties. We also install it at newly acquired communities," said Kevin Huss, Director of Revenue for Resource Residential. "LRO enables us to set optimized prices with sophisticated revenue optimization mathematics. Rate recommendations are based on objective market data like regional demand, competitive pressures, historic factors, and forecasted trends. With these objective, scientific rate recommendations, we can take advantage of the rapid strengthening in many of our markets." Resource Residential manages approximately 15,000 units in 24 cities across 14 states.
Rate increases average $50 in El Paso market
Year-over-year increases in revenue have been realized in Resource Residential's properties, including those in El Paso, Texas, which ended 2010 with 11% revenue increases. "El Paso is a very strong market for us today," said Huss. "We have been able to increase rates an average of $50 there." Three other regions mirroring the market strength of El Paso had double-digit increases in 2010 over 2009 and are still seeing increases in 2011. Another property saw revenue increases up to 15%. "We attribute the significant rent growth across our portfolio to our unique focus on revenue, marketing and adopting a retail sales mentality. LRO has been complimentary to this retail focus and a key element to our success," said Huss.
LRO actually improves people-to-people interaction as well, according to Huss. "I run weekly pricing calls with every property every week by region," he said. "It gives me a chance to ask about markets, competitors, specials, and concessions to verify the information we are entering in LRO is solid. This ensures the system has the best information on which to base prices, and it helps our managers be more price focused and think outside the box." For example, the initial tendency for some managers was to say that LRO's pricing recommendations were too high for their markets. Huss noted that they soon realized that the software was right, giving notice that their market was growing faster than previously forecasted. "LRO evaluates so many variables that even experienced managers are unable to assess. The result for Resource Residential is that following what LRO recommends, even if it is outside what we think is possible, results in both higher occupancy and revenue."
Strategic pricing decisions are based on solid numbers
LRO produces pricing recommendations for a variety of unit types based on hundreds of factors that influence rate setting, such as traffic, lease duration, move-in dates, competitive influences, and other metrics. "LRO is a solid tool for proactively optimizing our rates to increase revenues," said Huss. "It also records all the historic trends for each property and market. The data is enormously valuable. We have the confidence of knowing our strategic decisions are based on solid numbers."
Annie Laurie McCulloh, Rainmaker's Vice President, Business Consulting, Implementation, added "Resource Residential has become an industry leader in optimizing the leasing process through its rigorous retail sales training programs that have developed their leasing associates into a well trained national salesforce. Resource Residential views itself as a retail company in the hospitality industry, and LRO is an additional tool that they use to achieve their objectives of maximizing revenue at its properties. It's clear that the entire team at Resource Residential is fully embracing LRO and the best practices surrounding revenue management, and it's really exciting to see them achieve these amazing results!"
About Resource Residential
Resource Residential is a real estate property management company focused on providing the highest quality property management services to the Residents of the properties managed by the Company. Employees of Resource Residential are trained in all facets of customer service, sales, maintenance, property management and financial management in order to achieve and maintain the quality standards as set by their professional leadership. Resource Residential manages apartment communities with an aggregate value of over $1.7 billion, which includes over 15,000 apartments in 52 properties located in 24 cities across 14 states throughout the country. Based in Philadelphia, Resource Residential employs over 428 professionals whose main objective is to provide exemplary service to our Residents and their apartments in the communities in which they live.
About The Rainmaker Group
The Rainmaker Group – a Microsoft Silver Partner software and services company – is an industry-leading provider of revenue management and profit optimization solutions to owners/operators in the multifamily housing and gaming/hospitality industries. Rainmaker software, coupled with professional business consulting services, enables multifamily housing operators to maximize revenue from apartment leases and helps operators of casino hotels and other hospitality enterprises secure the most valuable customers to increase their profitability. Rainmaker software delivers real results for operators such as Archstone, AvalonBay Communities, Equity Residential, Post Properties, Simpson Housing, Mid-America Apartment Communities and a number of other leading companies. Gaming/Hospitality clients include leading casino/hotel organizations such as Atlantis The Palm Dubai, Caesars Entertainment, IP Casino Resort Biloxi, Isle of Capri Casinos, MGM Resorts International, Omni Hotels & Resorts, Wynn Las Vegas and many others. Headquartered in northern Atlanta, GA, Rainmaker is a solid, profitable, rapidly growing, privately held company. For more information, go to http://www.LetItRain.com.
###