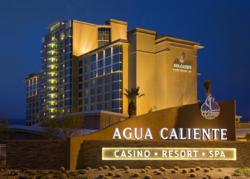 This is an ideal solution for properties like ours. With TribalREV, we work closely with Rainmaker's own Revenue Manager and are beginning to price our rooms for greater profitability.
(PRWEB) November 11, 2011
Tribe Implements TribalREV to Increase Profitability through Accurate Forecasting, Sophisticated Optimization, and Professional Revenue Management Resources at its Palm Springs and Rancho Mirage Properties
The Agua Caliente Band of Cahuilla Indians has ideal locations for its two world-class California casino spa properties in Palm Springs, California. The 228-room Spa Resort Casino is in downtown Palm Springs, and the Agua Caliente Casino Resort Spa is its 340-room AAA Four-Diamond property in Rancho Mirage. Both resorts are located just a short drive from the booming Los Angeles, San Diego, and Orange County markets. And, both have excellent spas that attract their own share of customers. The resorts had a unique opportunity to take revenue management practices to the next level. Key to this process is the implementation of TribalREV, a professional revenue and profit optimization system used by much larger properties in Las Vegas and Atlantic City.
Agua Caliente levels the playing field with Vegas competitors
"Most of our customer base originates from Los Angeles and Orange Counties. Our guests are drawn to us because we offer luxury AND value," said Bob Maloney, assistant general manager of Agua Caliente Casino Resort Spa. "The quick drive and relative ease in getting here from anywhere in Southern California provides a great alternative to Las Vegas; we easily sell out our two hotels every weekend. By implementing TribalREV revenue management, we hope to increase our performance and level the playing field with our larger competitors in Las Vegas. We are definitely on track to accomplish this."
TribalREV combines Rainmaker's hosted revolution™ revenue optimization system and the services of a professional Revenue Manager who meets with Agua Caliente's property teams each week. "This is an ideal solution for properties like ours. With TribalREV, we work closely with Rainmaker's own Revenue Manager and are beginning to price our rooms for greater profitability," said Maloney. "The system analyzes the total guest value to our enterprise along with our historic trends, forecasted events, competitive influences, and many other factors that impact demand. We are just getting started and already see a positive impact on rates and revenue. We will begin uploading recommended room rates from the revolution system to our PMS soon. This will allow optimized rates to be displayed automatically through our central reservations and front office systems."
"Our Central Reservations Manager for both properties is the point person for our rate optimization process," explained Maloney. "He implements the strategies that raise our ADR. We get daily rate setting recommendations from the system and have weekly price-setting calls with Rainmaker's Revenue Manager. We are experiencing good results with this more scientific rate setting process and expect to maximize revenue from all our profit centers as we take full advantage of TribalREV in the coming weeks."
TribalREV provides a professional and sophisticated revenue optimization solution to small and mid-sized casino hotel operators on American Indian tribal lands. These properties often do not have the systems or internal staff resources to focus full-time on strategic revenue management. Thus, using the revolution system, Rainmaker's staff works with hotel teams to create a revenue strategy based on historical and current data on the markets and segments served. The solution develops a culture of revenue optimization that maximizes profit based on total customer value. Click here for more information on Rainmaker's profit optimization solutions.
About Agua Caliente Casino Resort Spa & Spa Resort Casino
Agua Caliente Casino • Resort • Spa, a four-diamond resort in Rancho Mirage, and Spa Resort Casino in downtown Palm Springs offer the hottest slots, a variety of table games, and high-limit gaming, plus fine dining, shopping, relaxing spas and luxurious hotel rooms, all in a gorgeous resort setting. Agua Caliente Casino • Resort • Spa is also home to The Show, the premier concert theatre in Southern California featuring headliners like Matchbox Twenty, Tony Bennett, Jay Leno and more. Both properties are owned and operated by the Agua Caliente Band of Cahuilla Indians, a tribe rich in history and culture as well as community spirit. The tribe stewards more than 31,500 acres of ancestral land, which encompasses Indian Canyons Golf Resort, Indian Canyons and Tahquitz Canyon hiking trails, and a protected Bighorn sheep habitat.
About Rainmaker
The Rainmaker Group is a Microsoft Gold Certified Partner and industry-leading provider of revenue management and profit optimization solutions to owners/operators in the gaming/hospitality and multifamily housing industries. Rainmaker software, coupled with professional business consulting services, enables operators of casino hotels and other hospitality enterprises secure the most valuable customers to increase their profitability. Gaming/Hospitality clients include leading casino/hotel organizations such as Atlantis The Palm Dubai, Foxwoods Resort Casino, Mohegan Sun, Seneca Gaming, Caesars Entertainment, IP Casino Resort Biloxi, Isle of Capri Casinos, MGM Resorts International, Omni Hotels & Resorts, Wynn Las Vegas, and other leading companies. Headquartered in northern Atlanta, GA, Rainmaker is a solid, profitable, rapidly growing, privately-held company. For more information, go to http://www.LetItRain.com.
# # #