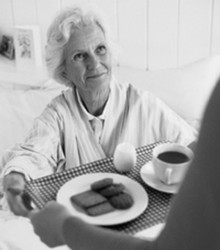 so no senior goes hungry.
Charleston, SC (Vocus) August 29, 2007
Blackbaud, Inc. (NASDAQ: BLKB), announced today that Meals On Wheels Association of America (MOWAA) is partnering with the company to facilitate growth in membership and to assist its 650 member programs in developing more sophisticated fundraising methods and practices.
As a national organization, MOWAA focuses on those issues that can best assist its members in achieving their individual missions of providing quality meals and nutrition services to as many vulnerable people as possible in the most efficient and effective manner, "so no senior goes hungry."®
"We are especially delighted to partner with Blackbaud, because they truly understand our cause and have experience and expertise in working with national organizations," said Enid Borden, CEO of MOWAA. "The Raiser's Edge will enable our member programs to raise the critical funds they need to achieve long term sustainability so they can focus on their mission of ending senior hunger."
With many of the member programs relying heavily on government support that is steadily decreasing, fundraising is quickly becoming more of a necessity rather than an additional source of support. With The Raiser's Edge, Blackbaud's fundraising management solution, Meals On Wheels programs throughout the country will be able to better organize their databases, donor lists, client information and more. The solution will also enable the Association and its member programs to further develop their major donor programs and better manage their membership and online giving programs.
Blackbaud will also play a key role in MOWAA's new initiative to enable member programs to increase the number of people they serve while continuing to provide the same high quality of care to each individual.
"The majority of nonprofit organizations are facing increasing competition for funding, while in tandem, experiencing a rising demand for services. It is essential for organizations of all sizes to look for synergistic partnership opportunities," said George Durney, Blackbaud's vice president of core sales. "Meals On Wheels Association of America is taking a proactive step in ensuring the vitality of all of its member programs by providing them with the unique opportunity to share in valuable resources, such as technology, that they may not have had access to before."
About Meals On Wheels Association of America:
The Meals On Wheels Association of America (MOWAA) is the oldest and largest organization in the United States representing those who provide meal services to people in need. MOWAA works toward the social, physical, nutritional, and economic betterment of vulnerable Americans. The Meals On Wheels Association of America provides the tools and information its programs need to make a difference in the lives of others. It also gives cash grants to local senior meal programs throughout the country to assist in providing meals and other nutrition services. For more information, visit http://www.mowaa.org.
About Blackbaud:
Blackbaud is the leading global provider of software and services designed specifically for nonprofit organizations, enabling them to improve operational efficiency, build strong relationships, and raise more money to support their missions. Approximately 19,000 organizations --- including the American Red Cross, Dartmouth College, the WGBH Educational Foundation, Episcopal High School, Lincoln Center, Cancer Research UK, Special Olympics, and Arthritis Foundation --- use one or more of Blackbaud products and services for fundraising, constituent relationship management, financial management, direct marketing, school administration, ticketing, business intelligence, website management, prospect research, consulting, and analytics. Since 1981, Blackbaud's sole focus and expertise has been partnering with nonprofits and providing them the solutions they need to make a difference in their local communities and worldwide. Headquartered in the United States, Blackbaud also has operations in Canada, the United Kingdom, and Australia. For more information, visit http://www.blackbaud.com.
Media Contacts:
Melanie Milonas
Blackbaud, Inc.
843.216.6200 x3307
Marley Sweeney
Meals On Wheels Association of America
703.548.5558
Source: Blackbaud
Forward-looking Statements
Except for historical information, all of the statements, expectations, and assumptions contained in this news release are forward-looking statements that involve a number of risks and uncertainties. Although Blackbaud attempts to be accurate in making these forward-looking statements, it is possible that future circumstances might differ from the assumptions on which such statements are based. In addition, other important factors that could cause results to differ materially include the following: management of integration of recently acquired companies and other risks associated with acquisitions; risk associated with successful implementation of multiple integrated software products; lengthy sales and implementation cycles, particularly in larger organizations; uncertainty regarding increased business and renewals from existing customers; continued success in sales growth; the ability to attract and retain key personnel; risks related to our dividend policy and share repurchase program, including potential limitations on our ability to grow and the possibility that we might discontinue payment of dividends; risks relating to restrictions imposed by the credit facility; risks associated with management of growth; technological changes that make our products and services less competitive; and the other risk factors set forth from time to time in the SEC filings for Blackbaud, copies of which are available free of charge at the SEC's websites at http://www.sec.gov or upon request from Blackbaud's investor relations department.
All Blackbaud product names appearing herein are trademarks or registered trademarks of Blackbaud, Inc.
###