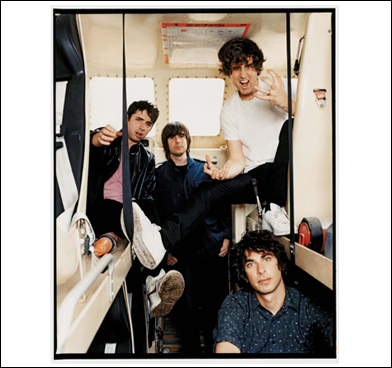 …a welcome return to club-shaking catchiness.
New York, NY (PRWEB) December 1, 2006
Recently recognized by The New York Times as "…tireless and single minded…," The Rapture has announced the formation of a new label called Throne of Blood. Based in New York, the label initially plans to release special vinyl versions of singles and remixes from the highly praised Pieces of the People We Love. In addition to bringing on board some of the most influential producers in dance music for the remixes, with Throne of Blood, The Rapture continues to demonstrate their desire to truly invest in their work and give back to their core audience. Also scheduled for availability on Throne of Blood will be vinyl LP editions of albums including Pieces which Rolling Stone calls, "…a welcome return to club-shaking catchiness."
Creative direction on all levels will be handled by The Rapture: Gabriel Andruzzi (keyboards, percussion, saxophone), Luke Jenner (guitar, vocals), Vito Roccoforte (drums, percussion) and Mattie Safer (bass, vocals). James Friedman, DJ and music industry pioneer, will oversee the day-to-day operation of Throne of Blood.
The first release, "Get Myself Into It," originally described by The Village Voice as "…a brittle, pastel riot of glittering saxophones and perfectly placed hand-claps…" features remixes by Prince Language, Serge Santiago, and Sebastian; it hit shelves on Monday, November 13.
Throne of Blood has partnered with Syntax Distribution in the U.S. and Amato Distribution and Schnauzer Records in Europe.
Pieces of the People We Love landed at Number 1 on Billboard's Heatseekers' chart upon release and has garnered mass critical acclaim. The band's U.S. tour kicked off in Washington, D.C. and is sold out in all tour markets. A recent highlight of the tour included back-to-back appearances in New York, as CMJ fans lined up to see what Spin.com described as "…one giant party."
The band recently appeared on The Conan O'Brien Show and hosted Subterranean on MTV2. They are scheduled to appear on Last Call with Carson Daly on December 1st.
For more information, please contact:
James Friedman
646-246-8408
# # #