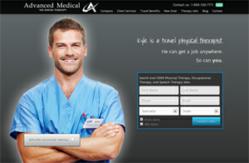 Since our company is like no other, we thought our website should be the same.
Port Orange, FL (PRWEB) May 02, 2012
Advanced Medical has regenerated their web presence with a new website that showcases their company culture. The site has expanded content, a bold design, and advanced navigational tools. The site aims to integrate clients, therapists, and internal staff into a fun and user-friendly web environment.
"Since our company is like no other, we thought our website should be the same," stated Jonathan Crowe, Director of Internet Marketing at Advanced Medical. "Our primary focus was to provide the user a rich experience whether viewing from their computer or smartphone."
Advanced Medical has strived to be a leader in recruiter technology and industry innovation. One example of this can be found in the new mobile version of the website. The mobile integration allows for simple and comprehensive job searches for those on the go. In addition, the mobile site links in concert to the Advanced Medical social media platform, allowing users to stay in touch wherever they may be. As a travel company with a singular focus on therapy, Advanced Medical has revolutionized the industry. Nowhere is this more evident than with its groundbreaking Therapy New Grad Program. The website features the program prominently with easy links to continuing education programs, tuition reward details, and mentorship highlights.
"With our energetic focus on new graduates, we are thrilled to have a modernized and resourceful website," stated Ryan Lantz, Director of University Development. "Our devotion to professional development and clinical support is on full display with this site."
The website also has an improved company blog: bringing advocacy issues, therapy news, and company announcements under one roof. The blog also links to scheduled events, outstanding employees, and valued clients. Other features of the new site include customized job searches, chat features, and efficient client needs functions. A collaborated effort between Advanced Medical marketing, IT division, and Staffing Robot provided the construction and vision for the new site.
Advanced Medical is a full-service staffing agency that specializes in travel therapy jobs. They assist in the placement of physical therapists, physical therapist assistants, occupational therapists, occupational therapist assistants, and speech language pathologists. These placements occur in premier medical facilities across the United States on a contract and permanent basis.