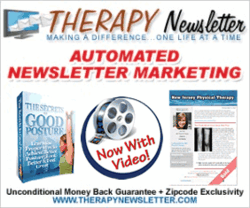 Strategic physical therapy marketing is all about showing patients and doctors what you can do for them.
Denville, NJ (PRWEB) December 25, 2011
With the release of a new, cutting edge technology to automate referrals, the possibilities for physical therapy marketing in the coming year is brighter than most private practice owners might think. Nitin Chhoda is the number one private practice consultant in the U.S .and has some succinct advice for physical therapists who want to succeed in 2012
"The landscape for physical therapy private practice owners is changing," said Chhoda. "Strategic physical therapy marketing is all about showing patients and doctors what you can do for them."
Cuts in Medicare and declining reimbursements have taken a toll on revenues, and many physicians and potential patients don't fully understand the benefits of physical therapy. The key is education and that's exactly where Chhoda's brand new cutting edge technology called http://www.therapynewsletter.com comes in.
To market themselves effectively, physical therapists are charged with promoting themselves with doctors and patients to show them the crucial role that physical therapy plays in pain management and restoring the patient's range of motion. A physical therapy business owner must demonstrate the benefit of their services to doctors, allowing them to make informed decisions on patient care, treatment and referrals.
Providing pertinent information to those who need it requires implementing new strategies and techniques. The best strategy is an easy to understand, practical patient newsletter on topics like low back pain, weight loss etc that is distributed twice a month by email, fax and video.
This is exactly what Chhoda's groundbreaking new technology does for physical therapy private practice owners.
Traditional methods of advertising no longer work and they're not cost effective. Today's patients and physicians are bombarded with information from a wide variety of sources and therapists must first gain their attention through education-based marketing.
"Private practice physical therapists can use text messaging, newsletters, email, or make a personal visit to the doctor's office to help them make a decision that physical therapy is the best treatment," said Chhoda.
To attain that goal and increase revenues, Chhoda developed the physical therapy newsletter, an automated patient newsletter and email marketing system. The education-based system assists therapists in attracting new patients, retaining existing clients and obtaining doctor referrals. Chhoda's system does the work for therapists, saving them valuable time and effort while they grow their practice. Users receive an area specific license to protect them from competitor usage. The system provides therapists with the means to obtain leads on visitors, along with free downloadable eBooks.
Physical therapists will have unprecedented opportunities to promote themselves and their profession through education-based marketing in 2012. As the premier private practice consultant in the U.S., Chhoda is an expert in physical therapy management and addresses the concerns of primary importance to physical therapists. From hiring practices to physical therapy billing that can reduce revenues, Chhoda provides information and strategies that boosts businesses to new heights.
Chhoda's office can be reached by phone at 201-535-4475. For more information, visit the website at http://www.nitin360.com.
ABOUT NITIN CHHODA
Nitin Chhoda is a licensed physical therapist, a doctor of physical therapy, and a certified strength and conditioning specialist. He's the author of "Total Activation: The New 5 Step Fitness Mantra" and "Marketing for Physical Therapy Clinics." He's been featured in numerous industry magazines, major radio and broadcast media, and is the founder of Referral Ignition training systems, Private Practice Summit, the Private Practice Formula and the Private Practice Mastermind group. Chhoda speaks extensively throughout the U.S., Canada and Asia. He's the creator of the Therapy Newsletter, along with Clinical Contact, a web-based service that boosts patient arrival rates.
###