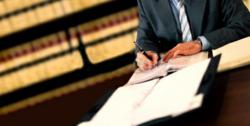 EMRs can be utilized to remind patients automatically of appointments via email, video and voice messaging.
Denville, NJ (PRWEB) July 15, 2012
"An EMR offers a wealth of benefits over traditional paper records," said Chhoda. "Insurance cards, photos and x-rays can all be entered into a laptop or tablet in multiple formats. They're stored securely and can be accessed in real time from virtually any location."
Occupational therapy software allows therapists to do much more than simply document a patient visit. It provides practice owners with freedom from cumbersome paper records, the need for storage space, shredding and time consuming transcriptions. Time stamps register and track when documents are created, entered and signed, offering protections against lawsuits and reimbursement issues.
With an EMR, therapists are privy to a patient's complete record, from prescriptions and diagnosis to treatment, eliminating the need for repeating costly tests. Therapists save time and effort, allowing them to initiate treatment without the need to wait for referrals and paper documents to be faxed or mailed. Labs and test results can be sent to the clinic electronically, along with inter-office memos.
Chhoda noted that physical therapy scheduling software provides a complete communications center. Patient portals offer clients a secure means of scheduling an appointment, entering insurance information for verification, and requesting information or a callback. EMRs can be utilized to remind patients automatically of appointments via email, video and voice messaging.
Physical therapy billing and coding is fast, efficient and electronic for expedited turnarounds on reimbursements. Chhoda noted that an EMR will increase the cash flow of any clinic, providing therapists with the needed funds to hire additional staff, add new equipment or expand the practice. Therapists can create to-do lists of unfinished exams, follow up procedures, and incoming test results that require immediate attention for efficient patient care and management.
"Physical therapy documentation software provides a valuable educational tool to illustrate injuries and treatments, allowing patients to understand their condition, treatment and how it will help them," said Chhoda. Therapists can make notes and drawings for better patient understanding and adherence to treatment. Charts and graphs can also be used to show the client's progress. regurgitating
Chhoda is a staunch supporter of physical therapy software that provides better patient care and management. Improving the documentation process through EMRs frees therapists and staff from mountains of paperwork and places it all in a single, easy to access system for increased efficiency and productivity.
Chhoda's office can be reached by phone at 201-535-4475. For more information, visit the website at http://www.emrnews.com.
ABOUT NITIN CHHODA
Nitin Chhoda PT, DPT is a licensed physical therapist, a certified strength and conditioning specialist and an entrepreneur. He is the author of "Physical Therapy Marketing For The New Economy" and "Marketing for Physical Therapy Clinics" and is a prolific speaker, writer and creator of products and systems to streamline medical billing and coding, electronic medical records, health care practice management and marketing to increase referrals. He has been featured in numerous industry magazines, major radio and broadcast media, and is the founder of Referral Ignition training systems and the annual Private Practice Summit. Chhoda speaks extensively throughout the U.S., Canada and Asia. He is also the creator of the Therapy Newsletter and Clinical Contact, both web-based services to help private practices improve communication with patients, delivery better quality of care and boost patient retention.