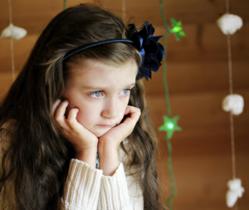 The holidays are especially hard for people who have experienced loss because this is a time of year when we are supposed to focus on what we are grateful for.
San Diego, CA (PRWEB) November 18, 2012
Thanksgiving is typically filled with joy and a time to reflect on happy memories. However, for those who have suffered a loss, it may be more difficult to find gratitude this holiday season. "The holidays are especially hard because this is a time of year when we are supposed to focus on what we are grateful for," explains Dr. Rochelle Perper, Grief and Loss Therapy Expert and Principal Psychologist of Therapy Changes. According to Dr. Perper, a loss can include a number of life changes. "Loss often refers to a death, but other common losses can include relocation, unemployment, absence of family or friends, strained relationships, or loss of joy or hope for the future."
Recovering gratitude is not an easy task, but experts agree that there are helpful approaches that can be taken. "In my experience, the first best thing a person can is acknowledge their grief and give themselves permission to grieve," says Dr. Perper. Mary, an accountant, mother of two, and one of Dr. Perper's patients, agrees. Her brother passed away unexpectedly two years ago. "The most painful part was thinking that I had to celebrate the holiday as if nothing had changed."
During troubled times, the holidays might not look like they used to. Following a loss, some individuals choose to practice a family tradition or they might celebrate the holidays in a unique way. "There is no one right way to spend this particular day," reminds Dr. Perper. For some, relying on family traditions that have been practiced for years can be comforting. "If you chose to continue with tradition, consider doing only a part of it," suggests Dr. Perper. Individuals are encouraged to choose which part they can do at a comfortable level. For example, when attending a social event, giving yourself permission to leave early can be helpful. "Tell your host or hostess ahead of time that you might need to take a break or excuse yourself so you don't offend anyone," Dr. Perper recommends. For some, traditions may be difficult to experience following a loss which has been evident in families choosing to deviate from the norm. For example, Mary has decided to take her children to Disneyland this Thanksgiving, which happens to be her brother's favorite place.
"Focusing on what makes you happy is the best way to achieve gratitude when there is seemingly nothing to feel grateful for," says Dr. Perper. When asked about her upcoming trip to Disneyland, Mary says that she feels more relaxed and stress-free which gives her a chance to remember her brother and "focus on what really matters." In addition to focusing on what activities are going to feel best for you, experts suggest the following techniques to recover gratitude:

Reflect on past losses or transitions. How did you get through those life changes? Ask yourself what you learned about yourself through that process that can help you today.
If you have experienced a loss by death, incorporate a way to honor your loved one into your holiday celebration by lighting a candle, dedicating a prayer or preparing their favorite food.
Do something special for an acquaintance that may be in need of help, or write a special card to someone who has touched your life.
If you spend time with family or friends over Thanksgiving, plan a time when each person can share a favorite or funny holiday story.
Use this time to pamper yourself; get a massage or drive to a beautiful place.
If you stay at home, plan your time with some activity or with others. Try renting movies, writing cards, listening to music or taking a walk.
Write down your goals in a journal and focus on what you want rather than what you feel like you have lost.
The experience of a loss can result in a wide range of intense, often overwhelming emotions. "Give yourself permission to grieve in your own unique way and in your own time. There is no one 'right way' to grieve," says Dr. Perper. "Grief is a process in which we remember what we have lost, but more importantly focus on what we can learn about ourselves and how we can rebuild a sense of meaning and purpose in our lives again."
About Therapy Changes
Therapy Changes is a licensed clinical psychologist practice in San Diego. The therapists at Therapy Changes focus on helping patients better navigate and manage life's difficult transitions. Services include individual therapy, play therapy, and family therapy.