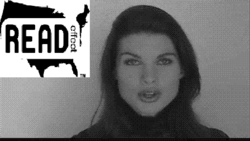 Responsibility- Don't Dance Around the Issue
West Palm Beach, FL (PRWEB) February 16, 2009
TheREADeffect.com is a new, interactive website that stimulates knowledge and inspires creativity among Jr. High and High School students. The R.E.A.D. Effect focuses on building a positive youth identity in America, therefore insuring a strong and positive future. R.E.A.D. is an acronym meaning Reviving Every American Dream.
This website focuses on the youth. Its creator, Courtney Allison, a 21-year-old student, fears for her generation. She recognizes the passivity of some of her peers; seeing many of them spending hours watching television, surfing the internet and talking on Facebook, rather than developing themselves into people who can re-establish and maintain the American Dream.
Every week Courtney posts creative, entertaining, video clips. The videos (hosted by YouTube) challenge students to engage in thought and dialogue on a wide variety of topics, from honoring diversity to accepting personal responsibility. She asks the students to respond with songs, art, video clips, and articles. Student responses are featured on the website.
This week, The Challenge focuses on taking responsibility for personal actions, reactions, and mood. Watch the entire version of "Responsibility- Don't Dance Around the Issue" at http://www.TheREADeffect.com.
If you would like more information about The R.E.A.D. Effect, or to request an interview, please contact Courtney Allison at (630)536-7262 or e-mail Courtney.Allison@thereadeffect.com.
# # #