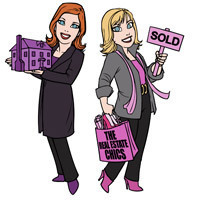 Barrington, IL (PRWEB) September 15, 2010
Kathy Pinkus and Judy Gibbons -Realtor's with Re/max of Barrington, today announced the launch of "The Real Estate Chics" video and podcast series. Kathy and Judy launched "The Real Estate Chics" as another avenue to inform customers and prospects about important information and trends in the real estate marketplace and also to create a referral platform.
The Real Estate Chics by Kathy and Judy is designed to provide valuable insight to consumers looking to purchase or sell a home as well as being a "referral machine" for business to business growth. Episodes will cover a range of topics, including market trends, updates on new products, insights from a variety of customers and "experts," as well as tips and tricks to shopping and always an engaging and light hearted look at life in general.
"The Real Estate Chics" video podcast's are short and extremely lively visual and audio episodes designed to educate, enlighten and entertain. To date, The Real Estate Chics by Kathy and Judy have over 20 episodes.
The Real Estate Chics by Kathy and Judy can be accessed and enjoyed at the listener's convenience. To increase accessibility, there are several different places a user may watch/listen to the series besides visiting the http://www.TheRealEstateChics.com website:
Facebook: Facebook.com/TheRealEstateChics
Twitter: Twitter.com/RealEstateChics
Youtube: http://www.youtube.com/user/TheRealEstateChics
Vimeo: http://vimeo.com/rechics
RSS Feed: Site visitors wishing to receive new episodes immediately upon availability may also subscribe to the podcast's RSS feed.
# # #