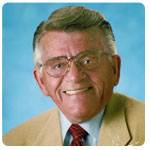 The Real Estate Network has the same potential as ESPN and will revolutionize the real estate industry in the same way that ESPN did for sports.
Minneapolis, MN (PRWEB) May 25, 2011
The Real Estate Network has added the Founding Chairman of the ESPN sports channel to its executive team. The dynamic and enterprising new television and online real estate platform announced today that Stuart W. Evey has been named Chairman of the Board.
Mr. Evey, who was instrumental in building ESPN from a tiny start-up in 1979 to "The Worldwide Leader in Sports," says he sees a remarkably similar opportunity in The Real Estate Network.
"Our vision for ESPN was to create a 24-hour service for the sports industry and it became the most successful story in broadcasting history," Mr. Evey says. "I joined The Real Estate Network as its Chairman because I quickly recognized that it presents another opportunity to build an iconic television network, web marketplace and brand in the real estate space. The Real Estate Network has the same potential as ESPN and will revolutionize the real estate industry in the same way that ESPN did for sports. I am excited to join the effort to create what I am convinced will become the premier provider of real estate related news, aggregated information and entertainment by producing, developing, programming and distributing high-quality content across multiple media platforms."
"We are extremely proud to welcome Stuart Evey as our Chairman of the Board," says Robert C. Atkinson, Founder of The Real Estate Network. "We will benefit exponentially from Stuart's more than 50 years of business experience, vast business acumen and his ability to nurture key relationships for The Real Estate Network. He is a true gentleman. I instantly recognized that he was one of the nicest people I've ever had the pleasure to meet. Obviously, he has a tremendous amount of deep media industry experience and a great track record in building and growing high-quality media, technology and entertainment companies. His entrepreneurial leadership, media industry background, financial markets expertise and relationships will be crucial as we develop, launch, operate and grow the world's No.1 destination for real estate related content."
The Real Estate Network is the largest, dedicated multi-media platform of its kind in the world. It will encompass all facets of the real estate industry while seamlessly merging premium, innovative, entertaining high-definition television programming with a video-centric, interactive, global web marketplace. The Real Estate Network is a comprehensive multi-media asset to be viewed and accessed across all three screens – television, web and mobile – which will produce exciting, robust growth prospects in each of them. The fusion of content delivered via television (24/7/365), the Internet and mobile devices will provide innumerable pathways through which consumers will be reached.
"The history of cable and satellite television has been written by many astute pioneering entrepreneurs who identified opportunities to deliver dedicated 'round-the-clock programming and services to audiences in under-served niche segments," Mr. Evey says. "These visionaries recognized that there would be a tremendous demand for channels entirely dedicated to news, weather, sports, food, history, children's programming and myriad other specific interests. Today, networks including CNN, CNBC, Fox News, The Weather Channel, The Food Network, ESPN, The Golf Channel, The History Channel, The Disney Channel, Nickelodeon and many others who boast hundreds of millions of loyal viewers and command premium advertising dollars generate consistently outstanding financial results and wide recognition – validating this business model.
"We see a similar and even more robust opportunity with The Real Estate Network," Mr. Evey continues. "Bobby and his team have been extremely thorough in their planning for this venture by conducting extensive research and analytics. They have identified multiple financial sources beyond traditional media and technology revenue streams. The Real Estate Network will expand on the media and online industry's proven ad based business model and include a large income-producing real estate investment philosophy that will create a gigantic reoccurring revenue asset. We are extremely excited about the growth potential of the business.
"I am confident that The Real Estate Network with its increased opportunities for growth will become the world's leading real estate, media, technology, mobile and entertainment company. Global viewers will be able to access real estate information and programming when, where and how they want it."
"Real estate is one of the largest industries in the world, it touches nearly everyone, and virtually everybody in their lifetime will have some interaction with real estate." Mr. Atkinson adds. "Yet consumers are poorly served by today's television and various online web business offerings. Despite the seemingly broad set of information sources and service providers, the current information is overwhelming. Consumers must consult multiple sources, wade through piles of printouts, visit lists of websites, and make multiple phone calls. The Real Estate Network will fill that void by delivering rich, concise, informative and entertaining real estate-related content produced with high-quality production values. This compelling, high-definition television, online and mobile real estate programming will include timely news and trends; financial insight; local national and global real estate information; entertainment and lifestyle programming; addictive reality shows; insightful profiles of specific geographic markets; and valuable tips, strategies and other educational content. We will be the preeminent authority on consumer real estate topics. We have developed a strategic growth plan to emerge as the comprehensive source for all consumer real estate information.
"The Real Estate Network will focus on becoming the best in the world at developing, producing and marketing real estate-related entertainment, news and information to a global audience. Our offerings will always be cutting-edge and serve the holistic set of educational, entertainment, informational and inspirational needs of our viewers in the real estate space across a variety of delivery platforms.
"Our research indicates there is demand for a single trusted source of high-quality, reliable and unbiased real estate information presented in an exciting, educational and entertaining format," Mr. Atkinson continues. "By delivering that offering to the market, The Real Estate Network will become the destination of choice for all real estate consumers and for all the real estate and ancillary service-related companies hoping to get their attention.
"The Real Estate Network is the product of several years of intensive research and development. Millions of dollars of private equity have already been invested in the venture," Mr. Atkinson says. Stay tuned! The Real Estate Network will be launched in the near future; however, a specific date has not been disclosed. The firm is actively adding to its board of directors, management team, developing cable television and multimedia content, and raising additional capital.
About Stuart Evey
Stuart W. Evey is Chairman of the Board of The Real Estate Network. In 1979, while still a top executive at Getty Oil, Mr. Evey directed the firm's development and launch of the first 24-hour cable television sports network, ESPN. He served as Founding Chairman of ESPN, building it into "The Worldwide Leader In Sports." In 1985, when Getty Oil was sold to Texaco, Mr. Evey negotiated the sale of ESPN to ABC-TV.
A legend in TV network circles and a well-connected businessman, Mr. Evey has served as director of many companies and organizations located in five continents including H.F. Ahmanson & Co., parent of Home Savings of America; Mitsubishi Oil Company in Japan; Louisiana Gaming Co.; Sutton Place Properties in England; the Liberian Timber Co. in Africa; Vadium Technology in Tacoma, Wash.; and The Wilshire Country Club in Los Angeles. Since the sale of Getty Oil in 1984, Mr. Evey has also served as a management consultant for a number of companies in the business community.
About The Real Estate Network
The Real Estate Network is seeking to create a broad, loyal, valuable consumer audience by truly understanding consumers' real estate information/transaction needs and deliver solutions that meet their needs. The Real Estate Network will interact with consumers through the full range of multimedia platforms. The Real Estate Network's offerings will serve the holistic set of educational, entertainment and informational needs of audiences and connect this valuable audience to the core real estate and ancillary service companies that are hoping to reach them. The firm's extensive company web business is under construction. For further information, please contact Robert C. Atkinson, The Real Estate Network, at 952-474-1234 or Bobby(at)therealestatenetwork(dot)com.
###