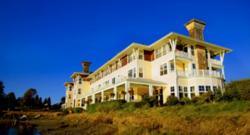 Port Ludlow, "Washington's Premier Waterfront Resort."
Port Ludlow, Washington (PRWEB) September 07, 2012
The Resort at Port Ludlow, announced its partnership with Stash Hotel Rewards®, the largest loyalty program for independent hotels in the United States.
Stash members can now earn and redeem points for free nights at The Resort at Port Ludlow,
"The Stash Loyalty program will benefit our guests that enjoy staying at boutique hotels and allow them to explore distinctive accommodations across the country. We are delighted to be associated with this collection of properties." Debbie Wardrop, General Manager, The Resort at Port Ludlow.
The Resort At Port Ludlow is Washington's premier waterfront resort situated on the pristine shores of the Puget Sound, providing breathtaking views of Ludlow Bay, the lush tree lined coast and the magnificent Olympic Mountains beyond. The Resort at Port Ludlow offers first-class, personalized service, luxury accommodations, outdoor adventures and a myriad of amenities.
Guests of The Resort at Port Ludlow, can join Stash for free at http://www.stashrewards.com. Stash members earn 5 points for each dollar spent on eligible room rates and can redeem them at great independent hotels across the U.S. Stash points never expire, and redemption is simple, without blackout dates or category restrictions found in many chain programs. Stash partner hotels also provide members with exclusive travel deals.
About Stash Hotel Rewards:
Stash Hotel Rewards frees travelers from the uninspired offerings of existing hotel reward programs by making it easy to break free from big, bland hotel chains and stay at amazing hotels.
Stash was founded on a belief in the happiness-producing power of traveling to places that convey a unique and interesting story – places with soul. It's a belief that is shared with the independent hoteliers and the independently-minded travelers the company was created to serve. Launched in May 2010, Stash was founded by a team of travel and e-commerce veterans from Expedia, Amazon, Microsoft, and Zillow. Stash is headquartered in Palo Alto with offices in Seattle and Miami. Travelers can easily sign up for a free account at http://www.stashrewards.com.
Press Inquiries
Kelle Kitchel - Cooper | Director of Development
The RockFish Group, llc.
Marketing | Development | PR | Sales | Consulting Group
T 360.774.0431 F 360.343.0128 E kelle(at)rockfishgroup(dot)com