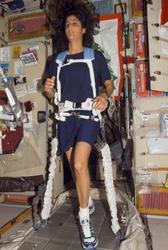 we are rolling it out first to endurance (e.g., triathletes, distance cyclists, Nordic skiers and marathoners) and elite (Olympic, collegiate and professional) athletes to demonstrate its efficacy for before, during and after exertion
Boulder, CO (PRWEB) June 4, 2009
NASA licensed the patented hydration formula(NASA link) to Wellness Brands Inc., Boulder, CO. While the concentrate will initially be marketed for sports and exercise, it is effective in treating any type of dehydration including altitude sickness, jet lag and even hangovers.
"We developed this product to perform optimally under the most extreme conditions. The health of our highly trained astronauts was at stake," explained Dr. John Greenleaf, former NASA Research Scientist and inventor of the formula. With all that Americans and the government have invested in the space program and our astronauts, this is one clear way to protect and maximize that investment. And now the general public will benefit from this research as well.
The novel formula contains the specific ratio of key electrolytes for rapid restoration of hydration. These electrolytes, dissolved in water, optimize the levels of ions in the body. The beverage is an isotonic formulation that restores both intra- and extracellular body fluid volumes in dehydrated astronauts, athletes and others. As a result, in studies among athletes, the formula was scientifically shown to deliver greater endurance than sports beverages containing carbohydrates.
Wellness Brands, Inc. is launching its first electrolyte concentrate brand, The Right Stuff™ in June.
"We are confident that anyone suffering from dehydration will benefit from using this product"; however, "we are rolling it out first to endurance (e.g., triathletes, distance cyclists, Nordic skiers and marathoners) and elite (Olympic, collegiate and professional) athletes to demonstrate its efficacy for before, during and after exertion" and to serve the most demanding segment of the market. "Based on the scientific evidence, we believe that no product addresses the hydration needs of high-power athletes as effectively as The Right Stuff." said David Belaga, president of Wellness Brands, Inc. "Once the public is aware with how well The Right Stuff works, we'll offer the technology more broadly to serve a wider range of consumers who want to maximize their hydration."
For more information about The Right Stuff from Wellness Brands, Inc., visit:
http://www.therightstuff-usa.com
###