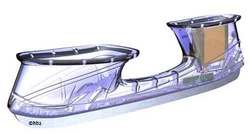 Thermablades are going to revolutionize the game of hockey. They represent the most significant advance in skate blade design in at least 30 years.
Toronto, ON (PRWEB) October 17, 2007
Canadian skate blade maker Therma Blade Inc. and hockey superstar Wayne Gretzky today unveiled the revolutionary new heated skate blade that a group of NHL players will begin testing during NHL game conditions.
ThermaBlade, a battery-powered skate blade that will be worn by 8 to 10 NHL players in upcoming NHL games to test the operation of the blade in game conditions, were presented to the media for the first time at the Hockey Hall of Fame in Toronto.
"There's no doubt that we are seeing the latest advance in the evolution of skating technology and I see Thermablade being popular equipment among NHL players," said Gretzky, who is an investor in the new skate being produced in Quebec. "Thermablades are going to revolutionize the game of hockey. They represent the most significant advance in skate blade design in at least 30 years."
"The NHL is very interested in confirming the data provided by Therma Blade Inc., to establish the safety and reliability of the blade under NHL game conditions, and we have agreed to allow a small group of players to test these blades in games over the next few weeks," said Senior Manager of Hockey Operations Kris King.
"There is a lot of interest among players throughout the NHL right now to see how Thermablade performs under game conditions," said Stu Grimson, Associate Counsel for the National Hockey League Players' Association (NHLPA).
Thermablade is designed to maintain a consistent temperature of approximately 5 degrees C using a small battery and a microprocessor stored within each skate blade holder. The warm blade acts to increase the thickness of the water layer between the blade and the ice surface, dramatically reducing gliding friction and starting resistance for skaters.
The reduced friction allows players to reach top speed faster and to skate using less energy. Physiological benefits include a reduction in heart rate, increased stamina and less fatigue over the course of a hockey game.
"This is an incredible day both for Thermablades and for the game of hockey," said Tory Weber, the heated blade's inventor and the founder of Therma Blade Inc. "We have spent the last few years working extremely hard to develop our technology from the ground up, with input from both elite and recreational players, and we believe Thermablades are truly the next wave in hockey skate technology."
Performance tests of the heated blades revealed benefits such as starting friction being reduced by 65% to 75%, sliding friction is lowered by 50% to 55% and vibration is reduced by about 50%. One example of an effect of these benefits was that the reduced blade vibration increased the player's feel and control of their blade edges, players that tested the blades stated that they felt they could make tighter turns and that they were more confident in their cornering.
In surveys of players who used the heated blades during product testing over the summer, about 85% of players said the Thermablades were significantly smoother to skate on than conventional blades; 68% said they skated farther with less effort; about 61% said they accelerated more quickly; 63% said they felt less fatigue while playing.
Physiological testing of Thermablade under controlled conditions show that players using heated blades display reduced heart rates and lower lactic acid production. Overall performance benefits indicate a physiological advantage over conventional skate blades as a result of increased stamina and reduced fatigue.
Thermablades will be available in specialty sports stores in Canada at a suggested price of $399.99.
"Thermablades are about to change the game of hockey," Weber told media assembled today at the Hockey Hall of Fame. "The technology substantially enhances skating performance and the heated blade has absolutely no negative impact on the ice surface at all."
As part of today's launch event, an early prototype of the heated blades that Weber has been developing since 1975 - a skate blade with an electrical extension cord attached - was donated to the Hockey Hall of Fame for display.
More information on the product is available online at http://www.thermablade.com . ThermaBlade's interactive agency is henderson bas of Toronto.
About Therma Blade Inc.
Canadian skate blade maker Therma Blade Inc. is a Quebec-based manufacturer of heated skate blade technology that was invented by Alberta resident Tory Weber. Therma Blade is a technologically advanced skate blade that uses battery powered electrical energy to slightly heat the skate blade, thereby increasing the layer of water between the blade and the ice surface and reducing friction at the ice surface. Therma Blade has several proven physiological and performance benefits for hockey players, including a dramatic reduction in gliding friction and starting resistance, an overall increase in stamina and an overall decrease in fatigue.
# # #