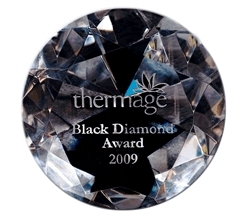 We will always pay special attention to the areas our patients are most concerned with
San Diego, California (PRWEB) March 1, 2009
Three-time award winning Nasrin Mani, medical director of La Jolla Cosmetic Laser Clinic, has just received the coveted Black Diamond Award from Thermage - her fourth award in three years. The skin tightening technology giant selected Dr. Mani to receive their highest achievement award based on the clinical results of her many Thermage patients.
Dr. Mani is already a triple recipient of the Thermage Pinnacle Award which is presented to a group of very select physicians who achieve outstanding results for their patients. She is the only physician in San Diego to have received this level of recognition and award status.
"I'm honored," Dr. Mani shared. "My staff and I give our patients 100% in our efforts to obtain the best improvements possible. Thermage is a wonderful procedure for firming skin for those who either aren't quite ready for a facelift or aren't interested in surgery. It's not a replacement for surgery, as no nonsurgical procedure can mimic that level of results, but it is an extremely adaptable treatment that tightens loose collagen and spurs some forward-acting collagen growth. We love Thermage and so do our patients."
Dr. Mani relates that although many physicians have the Thermage technology in their offices, what sets her practice apart is her customized application of the technology. Thermage is typically delivered in a grid pattern. Novice treatment providers "stamp" the radio frequency pulses in the center of each grid block that is laid down on the skin. Although this is standard application , Dr. Mani has learned this simplistic delivery doesn't take best advantage of the dispersion of the energy deep in the skin where the tightening can be the strongest.
Dr. Mani's technique involves a specific delivery pattern that is unique to each patient. For instance, someone with even skin thickness might do fine with the standard grid delivery, whereas another patient with thicker skin may require cross-corner delivery as well in order to take the best advantage of the collagen tightening. Under-treated skin will not tighten well and over-treated thinner skin may blister or experience "divots". Understanding the technology behind the function of radio frequency on the skin makes a substantial difference in the outcome.
"We will always pay special attention to the areas our patients are most concerned with," Dr. Mani says. "This may be laxity or bagginess around the eyes, the beginning of jowls or loose skin under the chin. Each area can require a somewhat complicated delivery pattern. That's what we've learned and that's what's given our patients such excellent results. It takes a little longer, but our patients' results, not our time, is what matters the most.
"We're exited about the new Body Tip that makes treatments off the face much faster than before - but with the same excellent - and even improved - results. Abdomen, thighs, arms...any part of the body that's been hit by 'skin sag' can benefit from Thermage."
Dr. Mani claims other notoriety. She was approached last year by San Diego 6 TV to be their public educator for nonsurgical cosmetic and laser procedures and is a regular medical contributor on the San Diego Living TV program. Dr. Mani is a training physician for Radiesse, the long lasting injectable used for deep facial folds and chin or cheek augmentation. A Platinum Plus status physician for Botox, Dr. Mani can offer her patients invitation to the Botox Benefits program.
La Jolla Cosmetic Laser Clinic is one of San Diego's most sought out laser centers. As a Board Certified Ophthalmologist, Dr. Mani has had many years' experience working with lasers in delicate retinal surgeries requiring great precision. Being able to provide patients with desired cosmetic results has gained her special recognition awards and appreciation.
La Jolla Cosmetic Laser Clinic is located at 1111 Torrey Pines Road in La Jolla, Ca., in a modern facility that caters to the comfort needs of their patients. A highly trained and experienced staff of Physician Assistants support Dr. Mani in her aesthetic practice. The private practice offers a wide variety of cosmetic laser procedures, including the resurfacing gold standard fractional CO2 laser by Lumenis - the ActiveFX DeepFX duo, Fraxel laser for acne scarring and melasma, Yag laser for spider veins and the Light Sheer for hair removal.
Dr. Mani provides ongoing public education seminars in her office, at no cost to attendees. "Education is increasingly important," she affirms. "To be able to make intelligent choices, patients today need to have an expanded knowledge of technology. It is my pleasure to make that education easily available to anyone who is curious or thinking of undergoing procedures for their appearance."
La Jolla Laser Clinic maintains an educational website, LaJollaLaser.com and offers educational email communications through a special complimentary VIP access program. La Jolla Cosmetic Laser Clinic (800) 515 7753
# # #