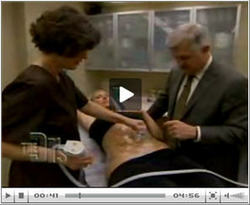 When I can offer superior results with less pain and less time investment for my patients, it is a choice I will always make.
San Diego, Calif. (PRWEB) January 25, 2009
Dr. Nasrin Mani, medical director of La Jolla Cosmetic Laser Clinic, has been selected as one of the first physicians in the nation to receive the new 16cm Thermage Body Tip. Proven to take inches from waist, hips and thighs, the new Body Tip makes the process faster, more technologically effective and more comfortable for patients.
"I'm always aware of my patients' comfort levels. Much of the medical technology for appearance improvement does involve some level of discomfort. The adage 'No Pain, No Gain' has a semblance of truth in this business" says Dr. Mani. "When I can offer superior results with less pain and less time investment for my patients, it is a choice I will always make."
The new tip, which is a full 16cm2, cuts treatment time for large areas in half. The new pulsing technology reaches deeply into the subdermal and fat layers of the skin to firm loose tissue. Recently featured on "The Doctors", a prime time TV show about medical procedures, the new tip received raves from clinical trial doctors and the physician panel on the show.
As a 3-time Thermage Pinnacle Award winner, Dr. Mani has the advantages of being at the top of the list for access to the new treatment tip.
"We're discovering that the Body Shaping tip is not only a good way to shrink loose skin, it also has equal impact on cellulite appearance. We're very excited to be able to offer this latest technology to our patients. Although there are additional costs to us as a practice, we are able to provide this exceptional treatment at the same cost levels of our previous tips. So, in a way, we can claim 'less pain and more gain'."
Dr. Mani is the only 3 time Pinnacle Award winner in San Diego. This honor is bestowed on physicians who have achieved outstanding results for their patients. She is also a national training physician for Radiesse - the long term injectable product that can be used to fill facial folds, correct nose imperfections and augment facial areas such as the cheek, chin and prejowl.
La Jolla Cosmetic Laser Clinic offers a complete selection of laser systems including the ActiveFX, DeepFX, and Fraxel, plus Yag laser for veins. Visit the website http://www.LaJollaLaser.com for more information and to sign up for VIP notification of news and promotional offers.
Dr. Mani is often seen on San Diego Living Channel 6 News as an educator to the public on skin laser technology and nonsurgical cosmetic procedures for the face and body. She makes herself easily available for media interviews. Please contact Wendy.Angulo for scheduling.
Contact Phone : 858.454.2700
La Jolla Cosmetic Laser Clinic
1111 Torrey Pines Road, Suite 102
La Jolla, Ca. 92037
# # #