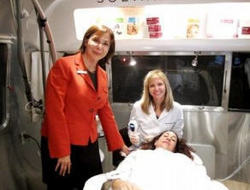 I've been thinking about surgery and learning about Thermage pretty much has changed my mind. I can't wait to set my appointment.
San Diego, CA (Vocus) December 5, 2009
Dr. Nasrin Mani, La Jolla's popular Cosmetic Laser physician, was selected to help present the latest Thermage technology to the San Diego public. In a California stopover of the National Solta Illumination Tour, Dr. Mani boarded the custom-outfitted airstream and explained to over 150 attendees how the new Thermage improves results and comfort.
The tour crossed the U.S. in a classic silver Airstream equipped with the new Thermage and Fraxel systems for skin tightening and skin resurfacing. In each city, the most recognized Thermage physicians were hand picked to provide public educational presentations.
As a 4 time winner of the Thermage Pinnacle Award (the only doctor in San Diego with this distinction), Dr. Mani was a natural choice. At an invitation event held at the Museum of Contemporary Art in La Jolla, Dr. Mani and her La Jolla Cosmetic Laser Clinic medical and support staff hosted attendees to a lavish catered affair to help roll out the newest skin tightening system, the Thermage CPT.
"This is fantastic!" enthused one guest. "I've been thinking about surgery and learning about Thermage pretty much has changed my mind. I can't wait to set my appointment."
On hand were the top level regional representatives from Solta, the parent company for Thermage and Fraxel along with Dr. Mani's Registered Nurses Tammy Harrington and Mahshid Mani , Physician Assistant Shanan Vali, Office Administrator Wendy Angulo and Dr. Majid Mani who provided the Fraxel laser demonstration.
"Thermage has not yet enjoyed the reputation it deserves," noted Dr. Mani in her presentation. "And that's purely because this is not the type of procedure you can cut corners on. We've developed our own Thermage protocol with specific customized treatment for each patient. Skin thickness, location of laxity, skin integrity, age, skin health, lifestyle, diet – all these factors play into the success of Thermage. We counsel our patients in how to take care of their skin so the new results they get are results they get to keep."
When asked in Thermage gave the same results as surgery, Dr. Mani replied. "For some people it can be close - IF they don't have a great amount of laxity or redundant skin. For many, it's close enough that they feel they can postpone previously-considered jowl or neck surgery."
When asked if Thermage was a one-time treatment, Dr. Mani responded, "A number of patients are impressed enough to plan on future treatments to 'keep the firm' going. Already many celebrities have routine Thermage because they don't want to risk surgical alterations that leave them looking like someone else! And nothing can firm body skin like Thermage. There really are no other options that don't entail scars or surgical risks."
A special information desk was available for attendees who wanted to learn more about Dr. Mani's latest injectable Signature Liquid Facelift with Sculptra, a collagen catalyst that spurs volume restoration by action of your own collagen. Dr. Mani has recently added this series-based procedure which can be used in combination with skin tightening, fillers and laser resurfacing for full aesthetic rejuvenation.
The special event was graciously covered by Gente Bien, San Diego's dual language publication which covers charitable events, society and community leaders in the sister cities of San Diego and Tijuana.
Dr. Nasrin Mani is the Medical Director of La Jolla Cosmetic Laser Clinic located at 1111 Torrey Pines Road in La Jolla, California 92037. She is also a Board Certified Ophthalmologist specializing in vitreo-retinal surgery. Dr. Mani is frequently featured on San Diego's TV 6 as a medical resource for aesthetic procedures. Visit http://www.LaJollaLaser.com for more practice information, procedure information and to receive newsletters and educational seminar notifications.
Office Admin Contact
Wendy Angulo
(858) 454 2700
# # #