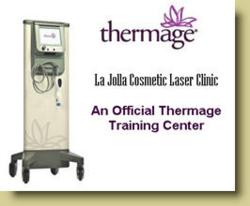 "I am exceptionally proud of my medical support staff. They are the key to the clinic's success and the key to the positive outcomes our patients experience."
La Jolla, California (PRWEB) February 28, 2012
Skin Tightening is a top priority with today's population of image conscious women and men. Thermage, the first and most adopted of the tightening technologies, uses radio-frequency energy to firm and tighten skin on the face, eyes, neck, arms, abdomen and derriere.
La Jolla Cosmetic Laser Clinic's appointment by Solta is met with affirming nods from hundreds of patients who have benefitted from the clinic's progressive treatment protocols.
Solta Medical, the aesthetic industry's leader in skin tightening and resurfacing, is a high visibility company in a growing market for nonsurgical procedures. La Jolla Cosmetic Laser Clinic (LCLC ) uses Solta's flagship Fraxel, Thermage, Fraxel DUAL and the Isolaz acne laser – all with proven technology and welcome benefits.
Nasrin Mani, M.D., the clinic founder, has amassed her own long list of aesthetic credentials, including being chosen as an American Top Doc by US News & World Report and a San Diego Top Doctor just in the last two years alone. Dr. Mani is one of only 4 Master Sculptra Trainers in the United States and is the #2 Sculptra physician in California. She is an Elite Trainer for Artefill's permanent component filler; serves as training faculty for Merz Aesthetic's Radiesse and is on the Professional Speaker Board for Allergan - the makers of Botox, and Juvederm; and Medicis - makers of Dysport, Perlane and Restylane.
On receiving the appointment as a Thermage Training Center, Dr. Mani credits her medical staff for their diligent and dependable treatment standards. "I am exceptionally proud of my medical support staff. They are the key to the clinic's success and the key to the positive outcomes our patients experience."
LCLC is staffed by Dr. Mani, a Board Certified Ophthalmologic Surgeon; Dr. Jasmine McLeod, a veteran dermatology-trained physician with over 20 years' experience; Shanan Vali, Certified Physician Assistant; Tammy Harrington, Registered Nurse and Mahshid Mani, Registered Nurse. "By having staff with the best of medical education backgrounds" says Dr. Mani, "I know all our patients will be well cared for in a safe and knowledgeable environment."
"We went with Thermage at its inception and have been delighted to see the improvements over the years both in comfort and effect," shares Dr. Mani. Thermage works by reorganizing existing collagen strands and spurring new collagen production. Collagen can be thought of almost like hair that has been curled. Initially, the curls are tight and uniform, but over time they lose the curl and begin to sag. The same thing happens with collagen strands in the skin. The radio-frequency-induced deep level heating puts the curl back by replacing worn out strands with new, "curly" ones.
Dr. Mani is frequently seen on San Diego TV as a featured medical expert on nonsurgical aesthetic treatments. View the LCLC video library.
La Jolla Cosmetic Laser Clinic is a full service aesthetic and medical skin clinic. Patients are offered a complete array of procedures including wrinkle fillers, relaxers including Xeomin, Botox and Dysport, and skin resurfacing lasers for sun damage, acne scars and natural effects of aging.
LCLC has special treatment protocols for successfully treating skin discoloration and hyperpigmentation, a common problem for San Diego area residents, as well as sclerotherapy and IPL for veins, spider veins and redness. Dermatology skin conditions are treated – many with insurance coverage.
La Jolla Cosmetic Laser Clinic is located in the heart of La Jolla at 1111 Torrey Pines Road, Suite 102, La Jolla, Ca. 92037. Dr. Mani and her staff can be reached by phone, (858) 454 2700 or through the clinic website w ww.LaJollaLaser.com
###