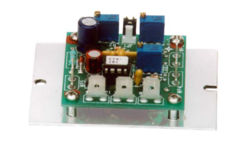 Both an open board construction or encapsulated on a mounting plate
Mechanicsburg, PA (PRWEB) May 10, 2013
Oven Industries' Model 5R7-350 is an economical thermal controller especially designed to operate with thermoelectric (Peltier effect) modules. Most of these modules may be operated in either a cooling mode or a heating mode depending on current direction. The 5R7-350/347 thermal controller may be field configured for either of these operating modes. These controllers were designed with a proportional / integral control algorithm to provide the best control at the most economical cost. Either a fixed or adjustable proportional bandwidth and integral rate permits optimizing individual thermal systems. Additional external heat sinking will permit operating load currents in excess of 10 amperes.
The thermal controllers are available in both an open board construction or encapsulated on a mounting plate. Various configuration options are available for the type of adjustments offered, packaging, available custom temperature ranges, dial scale.
FEATURES

Using thermoelectric modules
Rated for up to 7.5 amps at 9 to 26 volts dc with a
25°c. Mounting plate temperature

Controller will operate down to 9 volts dc
Single mode operation for either heating or cooling
Proportional / integral control algorithm
Adjustable or fixed proportional bandwidth of 0.5°c to 5°c
Adjustable or fixed integral rate of 0 to 2.55 repeats per minute
Pulse width modulated output with a base frequency of 1000 hz
Output device has linear current limiting to 14 amps
Reverse polarity protected
Connections via .250 quick connect terminals
ACCESSORIES
Optional remote potentiometer, knob, and scale: "A" version
Model 5R7-350 - Temperature Range -20•C to 100•C using TR67 Series Sensor
Model 5R7-347 - Temperature Range 0°C to 120° using TR104 Series Sensor
Oven Industries supplies custom thermal controllers and sensors that serve an array of clients, from aerospace, automotive, biomedical, defense markets, medical and semiconductor.
From industrial temperature controllers to programmable sensors, Oven Industries creates many detailed and customized solutions for clients, designed by an expertly trained staff of engineers.
For more information about the 5R7-350/347 controller, visit: http://www.ovenind.com
Media Contact
Rose Wescott
717-766-07212
r.wescott(at)ovenind(dot)com