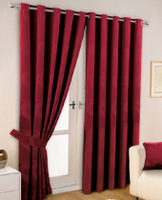 ... acts as a warm blanket around your windows ...
(PRWeb UK) February 10, 2011
Curtains & Curtains UK, one of the largest online stores for curtains, announced today the launch of two innovative products; Thermal and Interlined Curtains. Both these products offer a key advantage in saving energy bills by effectively reducing cold draughts and providing thermal insulation.
Manika Shah, Managing Director of Curtains & Curtains UK said: "It has been a long and arduous development process, but finally we have been able to source the right products. Keeping costs down had been the biggest hurdle. Due to the thickness of the fabric, extra care needs to be taken in constructing these curtains. You may notice the finishing and quality of eyelets on the thermal curtains are far more superior than previously used. This is because to achieve effective thermal insulation properties we have had to use a lining similar to the ones found in the blackout curtains, making the curtains heavier and thicker. So not only do these curtains provide you with thermal insulation, they also provide you with effective light control due to the blackout lining."
Talking further about interlined curtains, Manika adds: "Interlined curtains are nothing new in the bespoke industry, but for a readymade interlined curtain to be available at this price is not just unbelievable, it's a miracle. The secret behind this is a new micro fibre fabric which has brought manufacturing costs down considerably. Interlined curtains offer you thermal insulation by using three layers of fabric, with the middle layer being the focus. It's this middle layer that acts as a warm blanket around your windows, preventing cold draughts into your room while preserving the heat inside."
The thermal curtains range is offered as a ring top curtain in three colours, which we expect to be a favourite based on initial customer feedback. The interlined collection will be available as a pencil pleat curtain only for the moment to keep manufacturing costs down. An eyelet option is being considered.
These new curtain ranges are available now on our website.
About Curtains & Curtains UK:
Founded in 2008, with the sole purpose of providing a budget alternative to bespoke curtains, while maintaining similar quality and design features. Manika Shah started the company leaving behind 5 years' of experience in the bespoke curtains industry hence providing valuable inside knowledge which has seen a year on year growth of no less than 17% since the launch of our website. The company has made its reputation for being a supplier of cheap curtains and accessories like cushions and tie backs. Curtains & Curtains UK is a trading name for the parent company Saffron & Saffron Interiors Ltd.
###