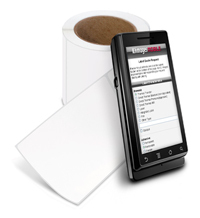 Brunswick, OH (Vocus) November 9, 2010
I.D. Images has expanded its online services into the mobile web with its latest campaign. The campaign is built around a mobile friendly platform. The first aspect of the mobile campaign is a custom label quote request (LQR). This mobile LQR provides users with easy access to critical questions necessary for quoting. The information entered is submitted directly into the company's system, which enables a quicker turnaround on custom product quotes.
The second aspect of the mobile campaign is a mobile friendly version of Brian's Blog. Brian's Blog is a leading industry blog written by Brian Gale, I.D. Images president and active TLMI member. Brian's Blog addresses various topics from macroeconomics to industry news and trends.
The company's web designer, Scott Wohlwend, was available for comment. "Customers want easy to work with companies that are caught up with the times. If our customers are using their cell phones to check email and go online, why not take advantage of the technology and allow them to send label quote requests and read blog articles from their phone too? Convenience for our customers is the goal of this campaign."
The company plans to extend its mobile and web capabilities to give its customers more self-service options in the future.
I.D. Images, a leading manufacturer of converted label media, specializes in providing label solutions for supply chain management to brand protection. The company serves varied markets including Transport and Logistics, Food and Beverage, Consumer Durables and Healthcare to name a few. I.D. Images' comprehensive product offering includes thermal transfer labels, ribbons, direct thermal, laser and Integrated labels and cards, on various paper and film or synthetic substrates. In addition, I.D. Images offers significant custom label capabilities including spot and digital printing, multi-web laminations and die-cutting. I.D. Images sells exclusively through distribution with a primary focus on packaging distributors, value added resellers and other label converters.
###