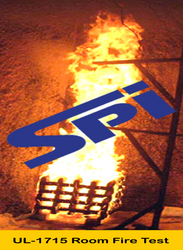 The UL-1715 test uses flame spread as a pass or fail criteria. If the flames do not spread across the walls or ceilings 8 feet or more from the room corner, it passes. Ours did not spread at all. Flame Seal-TB™ did not just pass it, we slam dunked it
Lakewood, WA (PRWEB) May 19, 2008
Flame Seal Products, Inc. releases new video showing the first thin film paint-on thermal barrier for urethane foam to successfully pass the UL-1715 Room Fire Test.
The fifteen minute, closed room test was conducted by Intertek Laboratories using a single coat (18 mils) of the Flame Seal Thermal Barrier (Flame Seal-TB™) applied by roller to the urethane foam insulated walls and ceiling.
Flame Seal-TB™ inventor Mike Kiser had this to say after the test was finished: "The UL-1715 test uses flame spread as a pass or fail criteria. If the flames do not spread across the walls or ceilings 8 feet or more from the room corner, it passes. Ours did not spread at all. Flame Seal-TB™ did not just pass it, we slam dunked it".
The new video shows condensed footage of Flame Seal-TB™ passing the UL-1715 Test.
Specialty Products, Inc. (SPI) of Lakewood, Wash. is proud to be a part of this groundbreaking innovation as the exclusive distributor of Flame Seal-TB™. SPI, a 34 year manufacturer and distributor of polyurethane foam and polymer coatings, recognizes this development as a significant advancement for the urethane foam industry.
The ability to provide an effective, affordable, and easily applied thermal barrier over spray foam insulation, will offer a major value-added enhancement to an already growing demand for energy savings.
Flame Seal-TB™ contains no Volatile Organic Compounds (VOCs) and is easily applied with airless spray equipment, brush or roller; eliminating the need for expensive application equipment and providing the building owner with an aesthetically pleasing form of fire protection.
To learn more please contact us:
Specialty Products, Inc.
ISO 9001 Certified
Cliff Haskins
V.P. Marketing and Sales
Specialty Products, Inc.
2410 - 104th St. Ct. S., Suite D
Lakewood, WA 98499
(800) 627-0773
(253) 588-7101
http://www.specialty-products.com
###