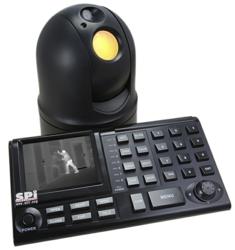 At these prices everyone can afford to have a thermal pan tilt camera
Las Vegas, NV (PRWEB) January 14, 2013
SPI Corp is a leading manufacturer / distributor of thermal pan tilt camera systems for UAV's, Vehicles, Boats and Building infrastructure. Their systems have been successfully used in a wide range of scenarios from wildlife control to combat and police actions. They will be showing their latest products in booth 6615 at SHOT Show 2013 in Las Vegas, NV January 15-18 2013.
"Our M1-D pan tilt thermal camera has been a huge hit worldwide, we can hardly keep them on the shelf." explained Randall Kolchins, Director SPI CORP. "Amidst the overwhelming demand we have had some feedback from our domestic customers asking for a super high resolution model that came complete in a turnkey package but still had a reasonable price point." When asked about meeting this goal Mr. Kolchins responded, "Of course we did! We always listen and respond to our customers needs." He declined to give an exact price but indicated that the entire package would be under $10k, but only for US customers.
A thermal pan tilt camera system, like the SPI CORP M1-D, is a remote controlled imaging system that can be mounted on boats, cars, buildings and UAV's. A typical system would be comprised of the pan tilt thermal camera head and a remote joystick and monitor for the operator to position the camera and view the scene. The New M1-D thermal pan tilt camera package combines a 640x480 thermal camera, visual CCTV camera and a laser pointer into the remote controlled pan tilt housing and comes with all support accessories.
"Our M1-D package is built to the same standards we have always had." Stated Darren Desoto, Lead Technician SPI Corp "The quality is there and so is the performance but now it includes all the accessories too." He went on to exclaim, "I am not really sure how we do it so cheap!"
Thermal pan tilt camera technology has been around for years. Professionals in the UAV, Marine, Vehicle and Law Enforcement markets are well aware of the advantages thermal imaging provides them. However, the high price and complicated setup have been cited as the top reasons why agencies have not purchased this technology. "At these prices everyone can afford to have a thermal pan tilt camera" remarked Jim Santana, Sales Manager, SPI CORP "This new high resolution package is just what my US customers have been asking for and now I can get this product into the hands of life savers that really need it".
SPI Corp is committed to making thermal technology available to any agency that needs it. Potential customers interested in learning more about thermal imaging or for purchasing options, including the entire line of thermal imaging solutions offered by SPI Corp, can visit http://www.x20.org. Customers seeking immediate attention regarding these products should contact Jim Santana at 702-369-3966.
# # #