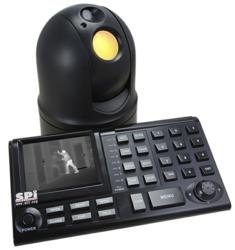 make the dream of a low cost highly reliable thermal PTZ system
Tucson, AZ (PRWEB) May 23, 2012
SPI Corp is a long time distributor and manufacturer of thermal imager systems in the United States. They specialize in thermal PTZ systems. Thermal PTZ systems are typically comprised of a thermal imager, visual cctv camera and other sensor or laser components. The thermal PTZ (AKA thermal gimbal or thermal pod) is a versatile platform that can be mounted on vehicles, boats, UAV's and fixed positions such as poles or buildings. Traditionally, thermal PTZ systems are very expensive and difficult to maintain. SPI Corp has been working on a corporate directive to reduce the cost and size of these typically large and expensive thermal PTZ systems. The M1-D Micro Multisensor Thermal PTZ system is said to be the culmination of this development effort.
"We have been working very hard to identify, design and manufacture the components to make the dream of a low cost highly reliable thermal PTZ system" explained Randall Kolchins, Director SPI Corp. "We are driven by feedback from our customers. They wanted this system for patrol vehicle use and UAV applications. We made this happen for them because the customer is our boss". The M1-D thermal PTZ is now available for sale to qualified customers throughout the world. The M1-D is targeted at agencies and public sector customers that are in need of thermal PTZ technology with limited budgets.
The M1-D thermal PTZ system is claimed to be the first 5" gimbal to include a thermal imager, cctv camera and laser pointer / designator in one low cost package. The system specifications state a continuous 360 degree rotation and weather resistant housing. "We have put the M1-D through its paces" claims Darren Desoto, Lead Technician SPI Corp. "We have tested the M1-D thermal PTZ on boats and vehicles in some pretty demanding applications. Being in the desert we have really punished this thing and it just keeps on running".
"We are so excited about this new product" stated Mike Bailey, SPI Corp. " We have always supplied thermal ptz systems to military and law enforcement customers for vehicle and perimeter use and they have responded very well to the new M1-D. What is really exciting now is that UAV manufacturers are very interested in the M1-D due to its low weight, small package size and extremely low cost. Now everyone can fly a thermal PTZ gimbal payload"
The M1-D is available directly through SPI Corp or their network of dealers and distributors. They are actively seeking dealers at all levels to add to their distribution network. For information about distributing SPI Corp Thermal PTZ products contact Mike Bailey at 702-369-3966.
SPI Corp has been in the business of manufacturing and distributing Thermal PTZ and thermal imaging solutions for well over a decade. Existing products include PTZ thermal imagers, thermal scopes and infrared cameras.
Potential customers interested in learning more about the M1-D thermal PTZ or for purchasing options including the entire line of thermal scope solutions offered by SPI Corp can visit http://www.x20.org. Customers seeking immediate attention regarding these products should contact Jim Santana at 702-369-3966.