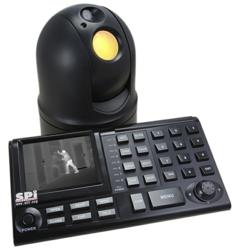 These types of systems are critical for law enforcement and military users
Las Vegas, NV (PRWEB) May 08, 2012
SPI Corp is a leading provider of multi sensor thermal PTZ solutions to military, law enforcement and civilian customers for over a decade. They are among the early pioneers of remote controlled thermal PTZ Camera systems for vehicle and stationary mount applications. The M1-D Nano Tech multi sensor thermal PTZ system is the natural evolution of their pan tilt product line offering their customers a smaller, lighter and more powerful platform.
"We are really excited about the new M1-D Nano Tech thermal PTZ system" stated Randall Kolchins, Director SPI CORP. "The Nano Tech affords the smallest package on the market that combines visual, thermal and laser sensor technologies and now that field testing is complete we are anxious to release this breakthrough product into the marketplace". Typical pan tilt zoom thermal systems available to consumers today are large complicated devices that can have price tags up to $100,000+. These systems are typically only within reach of agencies with very large budgets. The large systems also weigh 40lbs to 150lbs or more requiring extensive mounting provisions. These types of systems are critical for law enforcement and military users that need a way to see outside their vehicles and search areas in daylight or total darkness. The M1-D Nano Tech is said to solve most of these problems by using the nano technology model that tries to make everything smaller, stronger and ultimately less expensive.
"This system is truly amazing" explains Darren Desoto, Lead Technician SPI CORP. "The size of this thing really blows my mind. We pack a thermal sensor, CCTV camera and laser designator into an envelope the size of older thermal sensors alone!" Mr. Desoto went on to say " We put these things through the wringer out here in the desert and on the lake to fully punish them and test their reliability. So far this unit has stood up to everything we can throw at it".
The company aims to target this system to military and law enforcement professionals as well as to Hog Hunters in hard hit areas like North Carolina, South Carolina and Texas. Some states have bans on using night vision scopes to shoot hogs but there is no ban on using thermal imaging on your vehicle to spot predators.
"I can't wait until we release this unit" exclaimed Jim Santana, Sales Manager SPI CORP. " I got tons of customers that are chomping at the bit to get this little guy on their roof. There really is nothing like this out there and it will save lives I know it". The small size of the M1-D Nano Tech thermal PTZ system seems to be a critical factor in its success. Following testing SPI CORP expects to go into full rate production within 30 days.
SPI Corp has been in the business of manufacturing and distributing Thermal Imaging Solutions for well over a decade. Existing products include PTZ thermal imagers, thermal rifle scopes and infrared cameras.
Potential customers interested in learning more about the M1-D thermal PTZ or for purchasing options including the entire line of thermal imaging solutions offered by SPI Corp can visit http://www.x20.org. Customers seeking immediate attention regarding these products should contact Jim Santana at 702-369-3966.