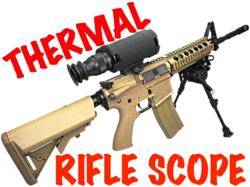 thermal scopes offer the advantage of seeing in total darkness
Las Vegas, NV (PRWEB) June 21, 2013
SPI Corp is a leading manufacturer and distributor of thermal scopes and thermal imaging systems to Law Enforcement and Military professionals. They have resources dedicated to manufacture of new units as well as refurbishment and repair of existing fielded systems. They place a special emphasis on providing low cost thermal riflescope solutions to agencies and individuals nationwide.
"The T14X thermal rifle scope is the result of years of research," stated Randall Kolchins, Director SPI CORP. "We have been testing components and mounting systems to find just the right combination to create a multi-purpose thermal imager". Mr. Kolchins went on to say, "The T14X is the perfect all around tool that can be used as a handheld or rifle mounted thermal scope".
Thermal riflescopes are electro optical systems designed to be mounted on a weapon for aiming at targets in any conditions. Unlike common rifle optics, thermal scopes offer the advantage of seeing in total darkness. Originally designed to give US Military forces a tactical advantage on the battlefield, thermal weapon sights have now found there way into law enforcement and civilian applications.
The T14X is a complete multi-use thermal rifle scope package including:
•T14x with 60hz real time thermal sensor 7-14 micron
•All metal hardened housing with rubber overlay protection
•9 degree germanium thermal optics with digital zoom
•ARMS#17 MKII throw lever mount with rail adjustment
•Long Eye Relief precision ground glass eyepiece
•Thermal video recording on internal SD Card
•Thermal digital image capture on internal SD Card
•Color and B/W thermal imaging
•Multiple user selectable reticles
•Hot target auto tracking
•Includes 8 rechargeable AA batteries
•Includes AA battery charger
•Includes video output cable, USB cable, External power cable
•Includes external power supply
•Includes soft carrying case
•Includes waterproof hard carrying/storage case
More information is available at The Thermal Scope Video on Youtube.
SPI Corp has been in the business of manufacturing and distributing thermal imaging solutions for well over a decade. Existing products include the M5 pan tilt systems and the M1-D UAV thermal PTZ as well as thermal scopes and infrared cameras.
Potential customers interested in learning more about the T14x Thermal Scope or for purchasing options including the entire line of low cost thermal scope solutions offered by SPI Corp can visit http://www.x20.org. Customers seeking immediate attention regarding these products should contact Jim Santana at 702-369-3966.