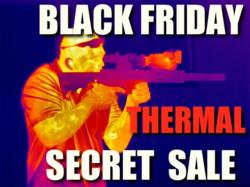 they don't have to wait in long lines and risk fights like in retail stores
Las Vegas, NV (PRWEB) November 23, 2012
SPI Corp is a leading manufacturer of thermal scopes, thermal pan tilt cameras and thermal imagers. They have announced that for the first time ever their Secret Black Friday Thermal Scope Sale will be open to all US Customers. All previous sales have been restricted to select customers and wholesale dealers.
"Demand for our thermal scope and pan tilt thermal camera systems has been tremendous this year," explained Randall Kolchins, Director SPI CORP. "We have had one of our best years ever and we felt that in this economy it was only right to give something back to the entire nation." Mr. Kolchins went on to explain. "Our normal Black Friday Thermal Scope Sale was only for our wholesale dealers and select customers but now for the first time we are opening these incredible deals to the entire nation". According to SPI CORP the sale will include significant discounts on the entire range of thermal imager types that they offer including Thermal Rifle Scopes, Infrared Cameras and Pan Tilt Thermal Cameras. They have indicated that even greater pricing will be offered on overstock, refurbished, used and demo thermal systems that they have in stock.
Thermal imaging technology is used for a variety of applications in Military, Industrial, Civilian and Law Enforcement market segments. A thermal camera is a device that "sees" heat energy rather than light making it an excellent tool for seeing in the dark and performing maintenance inspections on electrical systems and building envelopes. SPI Corp incorporates the technology into a wide range of product offerings for specific applications. Their most popular systems are thermal rifle scopes that allow for shooting in total darkness and pan tilt thermal cameras that let the user remotely control the thermal imager from within a vehicle, boat, or control room.
"This is an unbelievable opportunity for the general public to get in on wholesale pricing" Stated Jim Santana, Sales Manager SPI Corp "Normally only our wholesale dealers get these deals but now anyone can get in on the action and score some unbelievable deals." Mr. Santana went on to explain, "It feels really good to pass these deals on to regular customers that can really use the product. Best part for them is that they don't have to wait in long lines and risk fights like in retail stores. Just call us up and we will get you set up on a first come first served basis".
SPI Corp's Secret Black Friday Thermal Scope Sale will be in effect from Friday November 23, 2012 until Monday November 26, 2012. On Friday they will start accepting email requests for Black Friday specials and they will answer all calls and emails on Monday in the order that they were received. SPI Corp encourages all those interested in these deals to get their email request in early as items will be quoted and sold on a first come first served basis.
SPI Corp has been in the business of manufacturing and distributing Thermal Imaging Solutions for well over a decade. Existing products include Pan Tilt Thermal Cameras, Thermal Scope solutions and thermal imagers.
Potential customers interested Black Friday Specials by SPI Corp can visit http://www.x20.org to see their product catalog and email blackfriday(at)x20(dot)org to reserve their position. Customers seeking immediate attention regarding these products should contact Jim Santana at 702-369-3966.