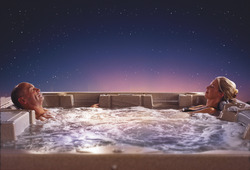 Even more so, with a hot tub, you need to take into consideration that person's aches and pains so you can customize their water therapy.
Wallingford, CT (PRWEB) September 28, 2007
ThermoSpas, a spa manufacturer and the country's largest hot tub retailer, is bringing the luxury of personalization and customization to America with its introduction of tailor-made hot tubs for any budget.
ThermoSpas believes a hot tub should be a luxurious experience, but should also match the needs and resources of the customer. The company has designed everything from an eight-seat spa with 165 jets, a stereo system, ice bucket and heated towel warmers for a New York City entrepreneur with a very active social life to a minimalist two-person spa with numerous adjustable therapy jets for a recently married athletic couple that works out at the gym daily. Customization is key to a ThermoSpa and the customer dictates the size, style and cost.
"A ThermoSpa is custom-designed and custom-built so that the customer gets precisely what he has dreamed about," said Andrew Tournas, President of ThermoSpas, "In fact, the customer usually ends up spending less money on the spa because he is ordering exactly what he wants and is not paying for features he won't use."
From the look of a marble or granite interior to custom-built wood cabinetry, developing your own ThermoSpas has the feel of designing a state-of-the-art kitchen, but can actually be much more complex. Because a spa offers not only relaxation, but actual proven health benefits, designing the water therapy depends on more than just personal taste.
"The ideal hot tub, like a couture Chanel suit or the bespoke Rolls Royce, is different for each person and entirely depends on his or her color palate, design sense, body type and lifestyle," said Tournas, "Even more so, with a hot tub, you need to take into consideration that person's aches and pains so you can customize their water therapy."
ThermoSpas works one-on-one with its customers in their home to create a unique hot tub that will meet their individual needs. The ThermoSpas design representatives, who are currently in 36 states and expect to be nationwide in the next two years, are fluent in the health benefits of each of the different jets, bubbling systems and massagers. They can help the customer design a spa that will help Mom relax and ease her insomnia, assuage Dad's lower back pain and offer the teen daughter a thorough water aerobics workout. The spa will, of course, also match the family's existing deck; have a built-in stereo system and ice bucket for parties and work via remote control so they can heat the tub from within the house on those chilly winter evenings. Even better, each seat will have its own control system so each family member can use the spa at the same time, but have on different jets and get different benefits.
Once the ideal location for the spa in the home is determined and the customized hot tub is designed, the one-of-a-kind spa is custom-built and extensively tested in the ThermoSpas factory. Approximately eight weeks after the spa is ordered, it is delivered and fully installed by a certified ThermoSpas technician.
Call 800-876-0158 or visit http://www.thermospas.com to learn more about how ThermoSpas can custom build a hot tub for you.
ThermoSpas
Founded in 1983, ThermoSpas, Inc. is a privately owned manufacturer and retailer of hot tubs, swim spas and outdoor living products. Based in Wallingford, CT, the company is the largest hot tub retailer in the U.S. and also sells in sections of Europe and the Middle East. ThermoSpas is the recipient of numerous awards and recognitions including the APSP Inspire Award for spa promotion and innovation, the APSP Eagle Award for commitment to industry advancement, the Consumers Digest Best Buy Award and the Better Business Bureau Consumer Education Award. For more information on ThermoSpas, please visit http://www.thermospas.com.
###