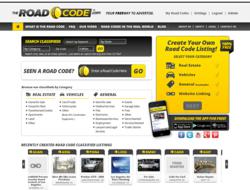 Sparta, New Jersey (PRWEB) January 09, 2013
All lanes are now open on the internet's "freeway to advertise". TheRoadCode.com, a unique online, free classified website launched early last year, announced today the implementation of various upgrades to their service based on requests from their ever growing user base.
"Keep people happy. That's what we try to do in every aspect of our service," said co-founder Paul Brocky. "As the number of users keeps growing, we get lots of requests to add features. Much like the mapping feature we implemented a few months back, these new features are items our users asked us for and we've responded in kind."
The latest updates include:

More descriptive search results
Easier search results navigation
Additional listing information on the home page
New categories
A blog featuring articles of interest to The Road Code user base
Ability to see all listings posted by particular users
A user resource guide providing best practices for classified listings
Cleaner, more user friendly page layouts
Allowing users the option of logging in with their Facebook login
"We're constantly looking to improve our service and prove that online classifieds can be innovative and engaging" said co-founder Tom Catuosco. "We're tackling the common complaints of other free classified sites and providing a solution."
In addition to the website, The Road Code has free apps for Android, iPhone, iPad and Blackberry. Users can download the free application from Blackberry's App World, Google Play and iTunes. The app is also at http://www.roadcodeapp.com where more information and screen shot tutorials are available. These free applications allow users to access information for listings on TheRoadCode.com while they're on the go.
The Road Code, found at http://www.theroadcode.com , is an online informational and free classified website that allows users to create their own mini websites that lets them post the who, what, when, where & why about anything they want to promote or sell. Once they have put in all this information into a listing, complete with picture and video capabilities, they are given a four to six character code to use in their marketing and promotional efforts, as well as the ability to print The Road Code signs to post with this unique code. And the best part about the site is that it's free.
For more information, please visit http://www.TheRoadCode.com or call (201) 252 - ROAD (7623)
# # #
About The Road Code
The Road Code was created and developed by two long-time friends, Paul Brocky and Tom Catuosco, and launched in January 2012, as a free classified and posting site that allows users to share information in a new and exciting way. Paul's previous life experience in the "real estate world" sparked the idea that lets "drivers" on The Road Code create their own mini-site, which allows them to put the 5 W's of whatever they would like - whether it's an event, a realtor selling a home, someone selling their car, or whatever your heart might desire - and get a four to six character code that can be put into the Road Code site (http://www.TheRoadCode.com ), or the free app, and all that information will be displayed. Complete with photo and video capabilities, the site truly allows people to promote their wares, events, existing websites or services for free.