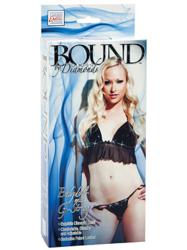 This book is seeming quenching a thirst for erotic fiction like never before and as we've experience, sex definitely sells.
Melbourne, VIC (PRWEB) August 09, 2012
"Here at http://www.theromanceshop.com.au we're seeing a significant boost in sales thanks to all of the hype surrounding the book 50 Shades of Grey. You can't get through a single day without hearing about the book multiple times in the media. Thanks to all of this coverage, more and more people are reading the book and it's obviously sparking an interest in bondage. This book is seemingly quenching a thirst for erotic fiction like never before and as we've experienced, sex definitely sells."
"50 Shades of Grey" by E. L. James is now reportedly the bestselling book of all time with over 31 million copies sold worldwide. This book is obviously appealing to the sexual curiosity of the masses and turning many previously taboo topics into some of the most publicly talked about.
"Some of our best sellers in recent months include our Bound by Diamonds Black Lingerie set, Bondage Seductions game, Burning Angel Whip and our Rubber Wear Crop Top and Hot Pants.
"Adult toys have never traditionally been seen as very socially acceptable but it seems that social attitudes are changing thanks in a large part to the descriptive BDSM encounters detailed in the '50 Shades of Grey book.' It's no secret that E.L. James has single-handedly provided the adult industry with a welcome boost. Apparently the audio book is also in hot demand."
Thanks to Dr Faye Skelton from the University of Central Lancashire and some image-generating software, women all over the world have even been able to visualise the infamous Christian Grey via an image that resembles an identikit criminal likeness and is worthy of forensic art praise.
"Questions are being asked as to how a book that is basically about sex can achieve such mainstream success. Some say it is the writers' ability to build such anticipation but I believe that literary success is about giving your audience what they want."
About the Company: The Romance Shop is an online adult store exclusively catering to the female market in Australia. The business was founded in Melbourne, Australia in 2008 and was designed to fill a gap in the market and provide solely for women. The Romance Shop is not just about the sex toys and lingerie; they offer a great range of adult products backed by excellent customer service and provide a safe and discreet place to indulge in any fantasy. They provide free shipping on all orders over $150 and offer an additional 10% discount for Facebook fans.