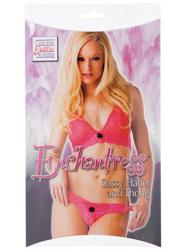 Our customers want lingerie that exudes sex appeal and creates more of a boudoir vibe
VIC, Melbourne (PRWEB) August 16, 2012
It's almost spring time in Australia and after a long cold winter, customers at http://theromanceshop.com.au are increasing their purchases and revamping their erotic lingerie draws.
"When we see a shift in purchase behaviour like this we share our customers' optimism for the warmer weather ahead. We also have visions of women across Australia ditching their flannelette pyjamas in favour of satin and lace to accentuate their best features. Our customers want lingerie that both looks good and fuels the erotic imagination. They like modern design and fabrics that embrace their skin in flirtatious ways and our latest erotic lingerie trends will make any woman feel like a sexy seductress."
Lingerie categories continue to outperform retail benchmarks in slower economies and overall consumer spending has certainly been on a downward trend in Australia recently. Seasonal transitions are often the catalyst for an increase in purchase behaviour. This combined with marketing campaigns from all the big lingerie brands is sure to stimulate the appetite of women around the country.
"Our customers today are definitely more adventurous but also shop with purpose and often have something specific in mind. They want lingerie that exudes sex appeal and creates more of a boudoir vibe while still leaving something to the imagination to create both desire and anticipation. Given that we cater exclusively for women we've found they're looking to create intimate moments their partners simply can't resist.
Some of our most recent best sellers include the black lingerie babydoll set, halter and thong sets and diamond teddy with ribbon ties. We're also in the process of expanding our range even further due to popular demand and will be announcing additional new season stock in the coming weeks.
About the Company: The Romance Shop is a fast growing online adult shop exclusively catering to the female market in Australia. The business was founded in Melbourne, Australia in 2008 and makes shopping for lingerie and adult toys sexy and fun. The Romance Shop offers a great range of adult products backed by excellent customer service and provide a safe and discreet place to indulge in any fantasy. They provide free shipping on all orders over $150 and offer an additional 10% discount for Facebook fans.