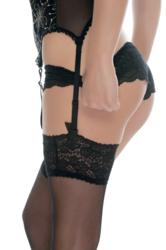 Role playing, sexy outfits and spontaneity is a recipe to make any man wake up and take notice.
VIC, Melbourne (PRWEB) August 29, 2012
A spokesperson from The Romance Shop today reported that their sexy lingerie is helping to keep relationships alive.
"Given that we cater to the female market we like to keep our ear to the ground, keep an eye on lingerie trends and listen to our customers. We often receive positive feedback from our customers on how our products help to enhance the excitement in relationships. It just goes to show that there are very few men that can resist a woman in sexy lingerie.
People in long term relationships sometimes become complacent or take one another for granted. They get stuck in a rut and routine takes over. Role playing, sexy outfits and spontaneity is a recipe to make any man wake up and take notice. It appears that many of our customers are getting that exact result.
Our customers want feminine, risque lingerie that sparks the imagination. A new sexy outfit is such an easy way to spice things up and get maximum impact, especially if their partner is not expecting it."
Every relationship has it's challenges and takes effort to make it work and it doesn't always go the way you want it to. According to the Australian Bureau of Statistics, divorce rates in Australia peaked in 1976 when the Family Law Act came into operation which allowed only one ground for divorce. Since then the divorce rate has fluctuated less significantly with more gradual increases subsequent to this.
"We certainly don't think sexy lingerie is a guaranteed saviour for a rocky relationship and while we're getting a lot of positive feedback from our customers, we also strongly advocate seeking counseling from a couples or marriage counselor to talk things through."
About the Company: The Romance Shop is a fast growing online adult store which exclusively caters for women. In 2008, the business was founded in Melbourne, Australia and is designed to make shopping for lingerie and adult toys romantic, sexy and fun. They provide a great range of products backed by excellent customer service and offer a safe and discreet place to shop. They also provide free shipping on all orders over $150 and offer an additional 10% discount for Facebook fans.